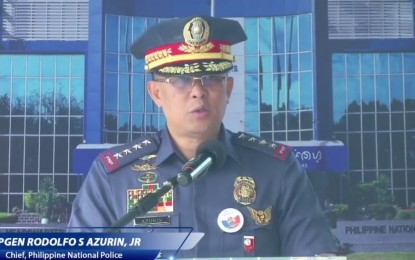 MANILA - Philippine National Police (PNP) chief, General Rodolfo S. Azurin Jr., inspected transport terminals in Metro Manila on Friday, two days ahead of Christmas Day as part of security measures for the upcoming Christmas and New Year's Day Celebration.
Azurin inspected bus terminals in Araneta Center Bus Port and LRT 2 Station in Cubao, Quezon City together with Brigadier General Nicolas Torre III, Director of the Quezon City Police District (QCPD).
Thousands of people are expected to cause an influx in these mass transportation hubs for the annual trek to the provinces for the long Christmas holidays.
"As the holiday season approaches, we remind everyone of the importance of staying safe and secure. The holiday season is a time for celebration and spending time with loved ones, but it's also a time when we need to be extra vigilant to protect ourselves and our communities," Azurin said.
The PNP chief further stated that police forces were already placed under the highest security alert status to ensure the availability of personnel in securing terminals, malls, public markets, churches, parks, and major streets.
Azurin reminded all police commanders on the operational guidelines and procedures to be followed in maintaining order, law enforcement, and providing public safety services this Yuletide season.
The Ligtas Paskuhan 2022 operational guidelines include police presence such as the establishment of Police Assistance Desks, deployment of road safety marshals, and focused law enforcement operations to include the continuous conduct of PNP Campaign against Illegal Drugs.
Also included are the implementation of Republic Act 7183 (Illegal Manufacture and Sale of Firecrackers and Pyrotechnics), target hardening measures like utilization of force multipliers, and police-community partnership and information operations.
"Any untoward incident or crime situation that may occur should be reported immediately to the nearest police station, and people should not hesitate to reach out to the authorities when they see something suspicious or if they need assistance", Azurin said. (PNA)