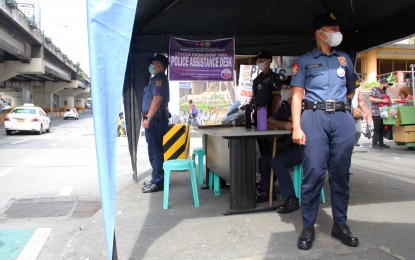 MANILA –The Philippine National Police (PNP) on Tuesday reported a 31-percent drop in the number of index crimes from Dec. 1 to 25 this year.
Citing the police force's latest data, PNP chief Gen. Rodolfo Azurin Jr. said a total of 2,049 focus crimes were reported, lower than 2,975 cases from Dec. 1 to 25, 2021.
He added that the index crimes decreased in Luzon by 30.11 percent (513), Visayas by 29.49 percent (189) and Mindanao by 35.56 percent (224).
The eight focus crimes or index crimes include theft, physical injury, rape, robbery, murder, homicide, motorcycle theft and vehicle theft.
Focus or index crimes are considered serious crimes while non-index crimes are violations of local ordinances and laws and road crashes.
Other non-index crimes are violations against women and children, illegal possession of firearms and drugs, illegal logging, lasciviousness, direct assault and other crimes not listed under index crimes.
"It is with joy to mention that the past ten days ushering Christmas Day had been generally peaceful throughout the country with no major untoward incident reported by Police Regional Offices," Azurin said in a statement.
Azurin added that the PNP's deployment of 85 percent of its personnel to different transportation hubs, seaports, airports, business establishments and other places of convergence resulted in the peaceful observance of the holiday season.
He also noted the strong collaboration and coordination among concerned government agencies and the support of the community which once again proved its effectiveness in thwarting criminal activities.
"To all PNP personnel, I commend you for the relentless effort in maintaining peace and order during this yuletide season. May all these efforts be sustained until the celebration of the coming year, 2023," he said.
He said from the first hour of Dec. 16 until 6 a.m. on Christmas Day, the PNP Command Center reported zero casualties from firecrackers or stray bullet incidents in all 17 regional jurisdictions.
With continuous police operations, Azurin said 17 persons were arrested for the illegal sale of firecrackers online.
"Sa mga kababayan natin, patuloy po ang panawagan naming na iwasan po natin ang gumamit ng mga ilegal na paputok para maging ligtas ang ating bagong taon (To the public, we continue to call on you to avoid using illegal fireworks to make our new year safe)," he said.
The Ligtas Paskuhan 2022 operational guidelines include police presence such as the establishment of Police Assistance Desks, deployment of road safety marshals, and focused law enforcement operations to include the continuous PNP campaign against illegal drugs.
Also included are the implementation of Republic Act 7183 (Illegal Manufacture and Sale of Firecrackers and Pyrotechnics), target hardening measures like utilization of force multipliers and police-community partnership and information operations.
Azurin said they are also working in cooperation with the Bureau of Fire Protection, Department of Health and other partner agencies to help decrease, if not eliminate, the number of damaged properties and victims of firecrackers-related incidents during this new year celebration.
"To our police officers, I am once again reminding you that administrative sanctions will be filed against those who will be caught in unofficial use or firing their firearms indiscriminately. Hence, as PNP members, we should live with our mandate: to protect and save lives at all times. To all other gun holders, be responsible owners and do not fire your guns indiscriminately for the law will be swift to go after you," he added. (PNA)