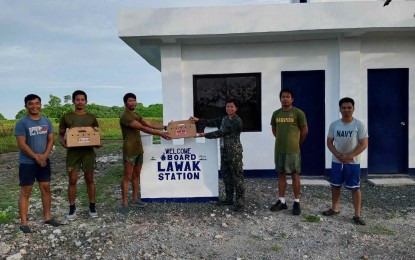 MANILA – Government troops deployed to the Lawak and Patag Islands in the Kalayaan Island Group received Christmas care packages in time for the New Year festivities.
"Even though it's quite delayed due to the bad weather and sea condition in the past weeks, we are glad to be able to bring the joy of Christmas to our troops who are guarding our territory in the West Philippine Sea (WPS)," Western Command (Wescom) chief Vice Admiral Alberto Carlos said in a statement Thursday night.
The Wescom, through Naval Forces West (NFW), brought Christmas care packages to the troops stationed in Lawak and Patag Islands on December 28.
"(The) NFW deployed BRP Mangyan (AC-71), skippered by Lt. Commander Carlo Cazcarro, on Dec. 28, 2022 to deliver the gifts and other supplies to our troops in Lawak and Patag Islands," NFW chief Navy Capt. Alan Javier said.
Javier added that the ship was deployed after the weather improved.
Other island stations in the WPS have also received their Christmas care packages, including the BRP Sierra Madre (LS-57) in the Ayungin Shoal.
"May these gestures inspire the guardians of our territory in the WPS. They are constantly in our thoughts and prayers, always grateful for gallantly protecting our rights in this part of our country," Carlos said.
The Wescom also continues to spread goodwill in its joint area of operation as it rescued and extended humanitarian assistance to 17 Vietnamese seafarers in Balabac, Palawan on December 27.
Send-off
Meanwhile, the Philippine Army (PA) on Thursday sent off 67 reserve officers who will be "Called to Active Duty" (CAD), during short ceremonies at Fort Bonifacio.
Army vice commander Maj. Gen. Adonis R. Bajao, who spoke on behalf of PA chief Lt. Gen. Romeo Brawner Jr., challenged the new CAD officers to prove their mettle as they fulfill their oath to serve the people and secure the land.
"May all these preparations we had implemented generate the desired results we looked into for this program – all in the name of service," he added.
The 67 new CAD officers – who hail from various professions – will serve as part of the regular force for two years.
They will undergo a 15-day pre-deployment training before taking on their respective field duties. (PNA)