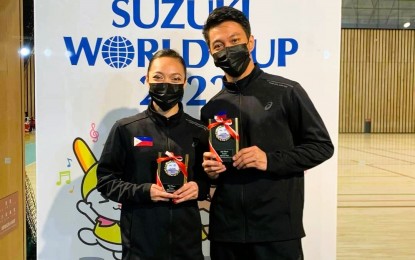 MANILA – Aerobic gymnast Charmaine Dolar is hoping for a better result in the Southeast Asian Games (SEAG) next year.
The back-to-back bronze medalist in the individual event will be making her final appearance in the tournament to be hosted by Cambodia from May 5 to 17.
"We already started our preparation for the Cambodia SEA Games and since it will be my last, I surely want to give it my all," the 31-year-old Dolar said in an interview on Saturday.
Two weeks ago, she won the mixed pair bronze medal with Carl Joshua Tangonan at the Suzuki World Cup in Tokyo, Japan. They scored 17.716 points and finished third behind Japan's Mizuki Saito and Riri Kitazume (20.349) and Italy's Matteo Falera and Arianna Ciurlanti (18.632).
"Actually, the Suzuki World Cup was just for exposure for the Cambodia SEAG and our goal was to perform the best that we can be and to learn from the other best competitors like the Japanese athletes," she explained.
Japan swept the women's individual event, with Kitazume claiming the gold medal, Rio Yamamoto pocketing the silver medal and Mio Iwaki grabbing the bronze medal.
Dolar was eighth followed by compatriot Lynette Ann Moreno.
Tangonan ranked seventh in the men's individual event dominated by Saito. Chinese Taipei's We Lian Jun took the silver medal while Japan's Shi Kawai settled for the bronze medal.
Tangonan, Dolar, and Moreno placed fifth in the trio event while teammates Enrico Ostia, Christian Roi Ramayrat, and Dorothy Grace Asuncion finished sixth.
The 2022 Suzuki World Cup was the fifth time Dolar and Tangonan teamed up. They joined the 2021 edition, as well as the National Ranking Meet (2021) and the Bulgaria Plovdiv Cup and Manila SEAG in 2019.
"Our goal was just to put no pressure, just enjoy the moment, and to perform our very best to show everyone what the Philippines can do on the World Cup stage. That's why maybe we were both confident while performing our mixed pair routine and to be honest, we hoped but never expected to win," said Dolar, the youngest among five siblings.
She was born in Gubat, Sorsogon but grew up in Manila.
"Now, we are truly grateful to win this medal because all the hardship, injuries we endured while preparing for this competition has paid off. We are looking forward for the next competition that we will have and we assure you that we will perform better," she added.
Dolar, who took up physical education at the University of the East in Manila, is setting her sights on coaching.
"I am looking forward to be an aerobic coach because I want to impart my knowledge and skills to the youth who are dreaming to be like me," said the Federacion Internationale de Gymnastics (FIG) Level 2 coach.
She started in artistic and rhythmic gymnastics at the age of eight. In 2004, she shifted to aerobics and the following year, she was named to the national team.
Her first international tournament was the 2006 Association of National Aerobic Championships (ANAC) in the United States.
Tangonon, the 2018 Asian Cup silver medalist, was ecstatic with the podium finish.
"We didn't expect this and I personally felt overwhelmed, too because it also shows that the Philippines do have a chance, too, to step up into that medal stand," said the 21-year-old gymnast from General Santos City, South Cotabato.
He qualified at the Palarong Pambansa and was a gold medalist at the Philippine National Games in 2018.
"We didn't put pressure on ourselves, that's why we're confident in performing our mixed pair routine. We just wanted to be there, enjoy the competition and perform our very best, entertain the judges and the crowd, and to show what the Philippines can also do on the World Cup stage," said Tangonan, a bronze medalist at the Bulgaria Plovdiv Cup (2019).
He has competed at the SEA Games in Manila (2019) and Vietnam (2022).
According to head coach Allena Rius, "they have improved a lot from last SEA Games in terms of higher level skills and choreography routine, which is at par with top Asian aerobic gymnastics team like Japan, Korea and Vietnam."
She, however, emphasized the importance of having more international exposure.
"We really need to push with a lot of technical aspect of this discipline from which we are behind due to lack of exposure or sometimes non-exposure at all. We have exposure but we can only count with our fingers how many for our top-caliber athletes like Charmaine Dolar, Lynette Ann Moreno, Carl Joshua Tangonan, Dorothy Grace Asuncion, Queennie Grace Briones, and Christopher Daniel Quevedo. In one year, we are lucky to have two competitions, often there's only one for the whole term of our top-caliber athletes," said Rius, who began coaching in 2001.
Under her guidance, the trio of Moreno, Briones, and Quevado won the bronze medal in the 2018 Aerobic Asian Cup in Mongolia and 2019 Plovdiv Cup, where the group of Dolar, Tangonan, Moreno, Briones, and Quevedo also got the bronze medal.
"This upcoming SEA Games in Cambodia, we are focusing on our team's weaknesses, at least, with the help of a foreign coach, which until now, is under negotiation with the Philippine Sports Commission and it's a race against time now that it seems like just a couple of months to go," said Rius, who also competed at the 1994, 1995, 1996 and 2001 American National Aerobic Championship and has won several medals in the Triple "A" Sports Aerobic Championship in Hong Kong.
She said the only scheduled competitions for 2023 before the SEA Games are the World Cup in Catanhede, Portugal (March 24-26) and the Suzuki World Cup in April.
"We are hoping we can get to these two competitions before Cambodia in May. If not, we will settle with the World Cup in Portugal to give us a one-month leeway for necessary adjustments and modifications before the SEA Games comes," said the FIG Level 3 coach and International Brevet judge. (PNA)