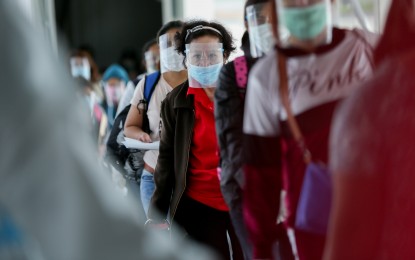 MANILA – The Marcos administration will continue to enhance the employability of Filipino workers as it recognizes the labor force's role in the country's economic growth and development.
"The employability of the Filipino worker is vital to building a strong labor force. Maintaining a high degree of employability requires the continuous upgrading of skills and knowledge," Malacanang said Saturday, citing the administration's year-end report.
The Department of Labor and Employment (DOLE), Malacanang said, had adopted and implemented modern and responsive technical and vocational training (TVET) and apprenticeship while the Technical Education and Skills Development Authority (TESDA) intensified its quality-assured TVET delivery, assessment and certification systems.
On Sept. 16, President Ferdinand R. Marcos Jr. ordered the reattachment of TESDA to the DOLE, which is expected to yield a stronger and better program coordination as part of the upgrading of TVET systems.
The Labor department also facilitated access to employment opportunities, ensured just and humane work conditions, and promoted sound labor-management relations and industrial peace.
At the same time, it initiated the calibration of skills, certification, professional standards and licensure examinations benchmarked with international standards.
To ensure that the skills of Filipino seafarers meet international standards, the DOLE trained 11,628 seafarers under its Maritime Training and Skills Competency Program.
Through the Professional Regulatory Commission (PRC), DOLE also conducted 83 licensure examinations with 349,093 examinees under the Professional Licensure Examination Program.
'Figures up'
Data from the Philippine Statistics Authority (PSA) showed that at least 47.11 million Filipinos are employed as of October 2022, up from 43.82 million in the same period last year.
The country's unemployment rate also fell back to pre-pandemic levels at 4.5 percent in October 2022, translating to 2.24 million unemployed Filipinos, down from the 3.5 million reported in 2021.
Citing DOLE, Malacanang said the services sector continues to dominate the employment market with about 58.5 percent or 27.12 million total employed persons.
The agriculture and the industry sectors account for 23.2 percent (10.75 million) and 18.3 percent (8.50 million) of employed persons, respectively.
The Marcos administration also strengthened bilateral cooperation with countries and related organizations hosting Filipino workers to protect their welfare and improve working conditions.
Last September, the Singapore Ministry of Health and the Department of Migrant Workers (DMW) signed a Joint Communiqué to explore deployment mechanisms for Filipino healthcare workers, launch exploratory discussions on a deployment agreement, uphold legal, transparent and ethical recruitment policies, and ensure fair treatment of Filipino healthcare workers in Singapore.
Meanwhile, a bilateral agreement with Saudi Arabia also in September resulted in the resumption of full deployment of Filipino workers to the Kingdom on Nov. 7, 2022.
The Philippines, through the DMW, also signed a memorandum of understanding (MOU) with the province of Alberta, Canada, on Oct. 6, 2022, strengthening cooperation on the welfare of Filipino nurses. (PNA)