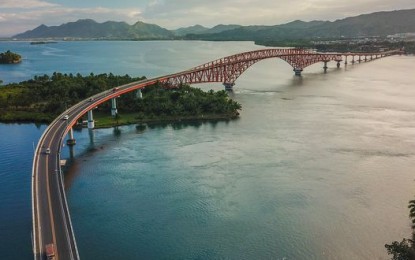 TACLOBAN CITY – The proposed second San Juanico Bridge has gained support from the Japan International Cooperation Agency (JICA) as one of the priority projects in the region, an official of the National Economic Development Authority (NEDA) said on Tuesday.
NEDA Eastern Visayas Regional Director Meylene Rosales said that during the visit of JICA team to the region last month, its key officials led by Senior Representative Kuronoma Kenji have expressed intention to provide technical and financial support to the project.
"Although JICA has yet to commit to funding the construction of the proposed Second San Juanico Bridge, they are already involved in preparatory activities for the program, such as the conduct of the pre-feasibility study for the bridge, which found that construction will have a favorable impact to the region," Rosales said in a statement.
In 2022, the Department of Public Works and Highways (DPWH) announced that the national government will need PHP9.17 billion to build the second San Juanico Bridge connecting the islands of Leyte and Samar.
The government is still looking for sources to finance the proposed bridge.
The project was tagged as a priority after it passed the 10 percent economic internal rate of return set by NEDA.
The proposed budget will primarily be used for the construction of the bridge superstructure, substructure, embankment, concrete girders, and relocation of power transmission lines, according to a study by DPWH and JICA.
The proposed bridge will connect the towns of Babatngon, Leyte, and Sta. Rita, Samar.
It will cross Janbatas Channel, a portion of the San Juanico Strait that separates the region's two major islands.
The proposed bridge will have a length of 1.24 kilometers that starts in Guintigui-an village in Babatngon, Leyte, and will end in San Pascual village in Sta. Rita, Samar.
"It is very critical that we have an alternative to the San Juanico Bridge. You cannot travel by land from Luzon to Mindanao without passing through us. That's why it is not only people that pass through the bridge, just as importantly, cargo also passes through," Rosales added.
In 2019, traffic volume on San Juanico Bridge is 7,200 vehicles daily, close to its 10,000 daily capacity.
In 2030, the figure is expected to increase to 10,900 daily, more than its limit. The number is expected to reach 15,900 in 2040.
Built in 1973, the existing 2.16-kilometer San Juanico Bridge has been encountering issues, such as aging and high maintenance costs. (PNA)