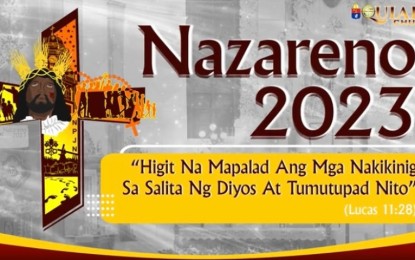 MANILA – The organizers of the Nazareno 2023 or the Feast of the Black Nazarene said devotees are ready for the changes in the observance of the annual religious event.
"Ready for the new things, so far so good. As I said, this is a transition period. While we are bringing back the pre-pandemic practices, we are integrating the habits of this pandemic. So far, people have been attending, and the desire to have a celebration is more apparent," Fr. Earl Valdez, attached priest of the Quiapo Church, said in an interview on the sidelines of Tuesday's press briefing for feast day preparations.
Valdez said many people still join the celebration even if some traditional activities remain suspended.
"Not to mention, it is not just centered in Quiapo Church but in other parts of the country," he said.
Manila Mayor Honey Lacuna, meanwhile, called on devotees, especially those who will attend feast day activities, such as the Walk of Faith, to wear masks.
"We are asking the public to wear masks, especially in crowded areas, practice social distancing and always use alcohol to disinfect," she said.
The Walk of Faith is a procession from the Quirino Grandstand in Luneta Park to Quiapo Church along Quezon Blvd. on Jan. 8, after 12 a.m. Mass.
The procession is expected to end after three hours, according to the organizers.
The Quiapo Church has decided not to hold the traditional Traslacion or the procession of the Black Nazarene image from Luneta to Quiapo Church amid the threat of the coronavirus disease 2019.
The procession was last held in January 2020 and lasted for 16 hours. (PNA)