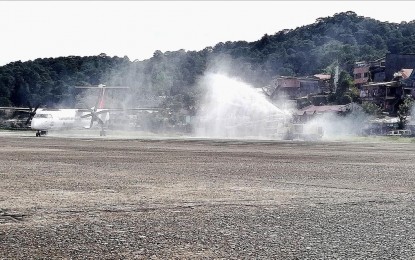 BAGUIO CITY – The city government will abide by the decision of the Civil Aviation Authority of the Philippines (CAAP) imposing a 75-meter buffer zone from the Loakan airport runway following the revival of commercial flights last Dec. 16.
"At the end of the day, it's CAAP who is the deciding factor. LGU (local government unit) will just endorse positively the request of the community to negotiate, but CAAP is the deciding body," Mayor Benjamin Magalong said in a media interview on Wednesday.
Several houses and even commercial areas are situated across the runway in Sitio Pongasan, Loakan proper which requires that residents cross the airport runway to and from their residences with jeepney lines loading and unloading near the gate of the airport.
An access road had been constructed beside the wall of the airport on the side of the Philippine Military Academy (PMA) but is scarcely used due to the absence of a jeepney line at the place.
He, however, said that CAAP, in imposing the rule, is mainly concerned about the safety and security in the operation of the airport.
"Hindi mo kasi pwedeng i-compromise ang safety and security. Kung minsan kasi ang nakikita lang natin yung safety, hindi natin alam na importante yung security especially iyong bakit natin kailangan i-maintain yung 75 (meters) (We cannot compromise safety and security. Sometimes, we are only concerned on safety, but security is more important, especially the need to maintain the 75-meter distance) ," he added.
A 75-meter buffer zone from the center of the runway needs to be cleared wherein at least 300 houses will be affected based on the survey conducted by the city government.
"We need to maintain the 75 meters as a security measure, especially with a lot of houses and facilities for rent. What if there is a terrorist who rents a space and fires on a plane?" the mayor said.
He added materials carried by vehicles could end up on the runway which might cause accidents.
Magalong said CAAP and affected residents will discuss the matter in a meeting set on Thursday.
"Safety and security are paramount concerns but the community will not understand unless you explain it well," he said. (PNA)