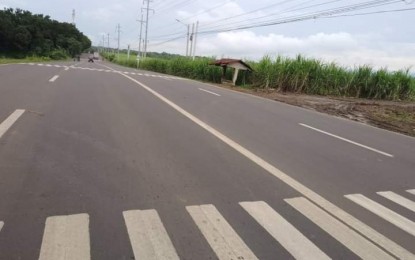 BACOLOD CITY – Three recently completed bridge and road projects amounting to PHP70.7 million, implemented by the Negros Occidental First District Engineering Office, have ensured safer travel and spurred economic opportunities in the northern part of the province, according to the Department of Public Works and Highways (DPWH) in Western Visayas (Region 6).
As of the last week of December, the Nanca-Cudangdang Bridge in E.B. Magalona town, which was destroyed by Typhoon Yolanda (Haiyan) in 2013, was reconstructed with a budget of PHP50 million.
In a statement on Wednesday, DPWH-6 Regional Director Nerie Bueno said the new bridge, which connects Barangays Nanca and Cudangdang and the neighboring villages of Tanza and Tabigue, provides direct access for sugarcane-hauling trucks from the four villages going to the sugar mill in the adjacent Victorias City.
She added that some 11,000 residents now also have a safer and quicker mode of crossing the Malogo River instead of using small barges like before.
"Bridge is a vital transportation and economic infrastructure towards economic growth and transport linkage. The once disturbed economic activities in these communities will be revitalized," Bueno said.
As of Wednesday, the almost two-kilometer portion of the Bacolod North Road section in Cadiz City, with an allocation of PHP16.4 million, has been overlaid with asphalt along with a provision for reflectorized thermoplastic pavement markings for the safety of motorists and pedestrians.
Meanwhile, the 736-meter part of Bacolod North Road in the neighboring Sagay City junction of Sagay-Bato-Dian-ay-Marcelo-Balea Road was reconstructed and also overlaid with asphalt, including the application of reflectorized thermoplastic pavement markings, for the amount of PHP4.3 million.
Bueno said better and improved roads ease mobility, reduce vehicle operating costs, and minimize accident rates.
"This preventive maintenance undertaken by DPWH is significant. Well-maintained roads offer longer road pavement serviceability, high skid resistance, and high contrast in color between asphalt and road markers, providing road users with better road visibility especially at night and during rainy days," she added. (PNA)