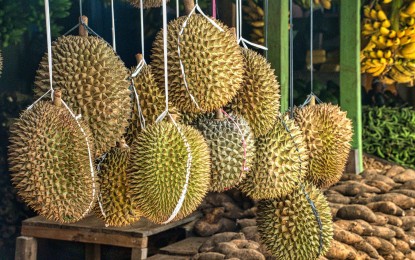 MANILA – President Ferdinand R. Marcos Jr. on Wednesday welcomed the commitment of Chinese President Xi Jinping to address the trade deficit gap as China readies to accept high-value Philippine agricultural products.
"I'm very glad that we are in the process of finalizing the rules and regulations for the import by China of fruits from the Philippines," Marcos said in his bilateral meeting with Xi.
Earlier, the Philippine Department of Agriculture (DA) and China General Administration of Customs signed an agreement for the protocol of phytosanitary requirements for the export of fresh durians from the Philippines to China.
The DA and the Chinese Ministry of Agriculture and Rural Affairs also signed a joint action plan for 2023-2025 on agricultural and fisheries cooperation.
In total, the Philippines and China signed a total of 14 bilateral agreements in various fields, including agriculture, infrastructure, development cooperation, maritime security, and tourism.
Marcos acknowledged that China has become the Philippines' largest trading partner, but noted an imbalance between exports and imports.
"I believe that very soon now, we will be able to see the different fruits… the high-quality agricultural products coming from the Philippines start to come into China to balance the trade situation that we have between China and the Philippines," Marcos said.
China is the Philippines' largest trading partner, the largest source of imports, and the second-largest export destination.
Likewise, Marcos told Xi that he looks forward to welcoming more Chinese travelers to the Philippines once the Covid-19 situation in China becomes more manageable.
The Philippine and Chinese governments earlier agreed to implement the memorandum of understanding on tourism between the Philippines' Department of Tourism (DOT) and the Ministry of Culture and Tourism of China.
China is the second largest source of foreign tourists in 2019 and a key player in inbound foreign direct investments and development assistance.
Data from the Department of Tourism (DOT) showed that Chinese nationals accounted for 1.7 million arrivals in 2019.
Marcos said the Philippines and China must also focus on cultural and educational exchanges as well as people-to-people relationships to achieve a higher level of closeness and cooperation.
He said the two countries should also work for the transfer of technology in both directions particularly in addressing future health emergencies.
"And other pandemic lessons that we have to learn is that our health care system must be made more robust, made more efficient, and made more effective. And this is another one of the great priorities that we are going to have to attend to," he added. (PNA)