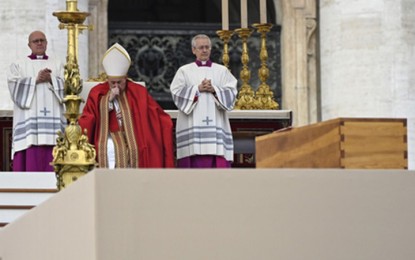 ROME – Pope Francis presided over the funeral of his German predecessor, Benedict XVI, in a packed St Peter's Square on Thursday.
It was the first time in modern history that a sitting pontiff has led such proceedings.
Pope Emeritus Benedict XVI died on New Year's Eve at the age of 95. He was the first pope in 600 years to abdicate in February 2013.
"We are here with the scent of gratitude and the oil of hope to show you, once again, the love that is never lost," Francis said.
"We want to do so with the same anointment, knowledge, delicateness, and dedication that you were able to bestow over the years.
"It is the people faithful to God who, united, accompany and entrust the life of he who was its pastor (to the Lord)".
There were several banners in the square saying "Danke Benedikt".
At the end of the ceremony, the faithful called for Benedict to be proclaimed "Santo Subito" (Saint At Once), a call echoing those made at the funeral of Saint John Paul II.
There were also moving scenes when Pope Francis put his hand on Benedict's coffin for a moment of prayer before it was taken into St. Peter's Basilica to be entombed.
Italian President Sergio Mattarella and Premier Giorgia Meloni were among the officials who were present at the funeral.
German President Frank-Walter Steinmeier and Chancellor Olaf Scholz, King Philippe and Queen Mathilde of Belgium, and Queen Sofia of Spain were among the dignitaries from around the world who also attended the funeral.
A warm round of applause was heard when Benedict's cypress wood coffin was carried into the square.
Francis arrived in a wheelchair because of a long-standing knee problem.
The Vatican press office said that the Gendarmerie police corps estimated that around 50,000 people attended the funeral while over 200,000 people had paid their respects to Benedict during the three-day lying in state at St. Peter's Basilica.
Benedict XVI has the coins and medals minted during his pontificate as well as the palliums he wore as part of his robes in his coffin.
He also has a metal cylinder containing a 'rogito' (deed) or record of what happened during his papacy.
The late former pontiff is being laid in the former tomb of Saint Pope John Paul II which was vacated when he was brought up into the basilica from its basement after he was beatified in 2011. (ANSA)