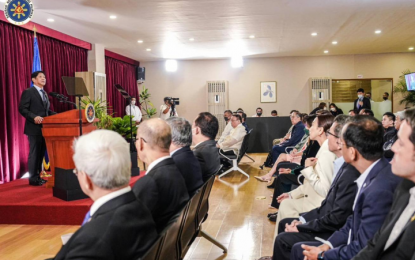 MANILA – President Ferdinand R. Marcos Jr. said the USD22.8 billion in investment pledges he secured from Chinese investors during his three-day state visit to China would support the country's economic recovery efforts.
"When realized, these investments will support our country's economic recovery efforts and create more jobs for Filipinos within our country," Marcos said in his arrival speech at the Villamor Air Base in Pasay City late Thursday afternoon.
Marcos said his office would be releasing "a more detailed breakdown" of the investment pledges.
In a news release on Thursday, Chinese investors have committed USD22.8 billion worth of investment consisting of USD1.72 billion for agribusiness, USD13.76 billion for renewable energy (RE), and USD7.32 billion for strategic monitoring (electric vehicle, mineral processing).
During the roundtable discussion with agribusiness chief executive officers (CEOs) in Beijing on Thursday, the President expressed appreciation for the contribution of all the participating companies in the Philippines' move toward a more modern and sustainable agricultural sector.
In the agribusiness roundtable meeting, trade deals were based primarily on the signing of the protocol on market access for Philippine durian to China.
Investments were also sealed in coconut and food processing, the development of durian production, and processing and marketing, as well as an alternative green technology for animal feeds and other agriculture-related products.
Two cooperative agreements were also sealed to ensure a sustainable supply of agricultural inputs, especially fertilizers.
According to the President, the country's agricultural sector possesses a huge potential to drive economic development with its thriving agribusiness ecosystem, abundant land, and fishery resources, rich pool of competent manpower, local availability of raw materials, favorable policy environment, as well as strong government support.
He welcomed the intention of some Chinese companies to invest in coconut, durian production, and the Philippine livestock sector, which he said could generate much-needed employment, enrich the sector's research and development activities, enhance domestic and international trade, and ensure food security.
On renewable energy, the roundtable meetings noted an increase in investment pledges in Philippine Renewable Energy (RE) projects due to the lifting in December 2022 of foreign ownership on RE generation projects.
Investment interest is mainly in solar and wind, but also includes the manufacture of equipment, such as wind turbine generation towers, foundations, and also blades, and other wind turbine parts.
In his remarks during the roundtable with Chinese businesses on the renewable energy sector, Marcos said there are investment opportunities for them in the Philippines as energy demand continues to grow and keep pace with the country's projected strong economic growth.
"We look forward to more Chinese investments in renewable energy pursuits, such as in solar and wind, as well as in related sectors, including battery energy storage systems and off-grid power supply systems," he said.
Chinese investors may also find potential in the manufacture of renewable energy project parts and equipment, he said, hoping they could help the Philippines develop expertise in power generation equipment manufacturing.
The country also welcomes investors in photovoltaic, onshore and offshore wind turbine generation, waste-to-energy, and other renewable energy projects.
In meeting CEOs on mineral processing and e-vehicles (EVs), Marcos said the Philippine economic fundamentals remain strong and have been steadily improving.
"I assure you that our government is committed to support your business activities in the country," he told the CEOs.
He invited them to explore investment opportunities in mineral processing and battery precursor production, assembly of EVs, and manufacture of EV parts and components.
At the same time, the President encouraged investment cooperation on green development in green technology and technological innovation platforms, such as R&D centers, innovation centers, laboratories, and incubators. (PNA)