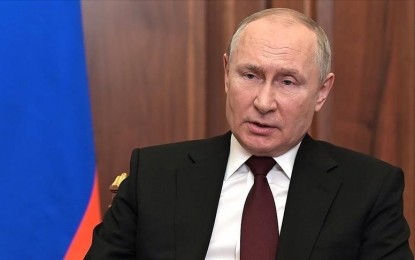 ANKARA – Russian President Vladimir Putin has ordered a ceasefire along the entire line of contact in Ukraine from noon Friday (Moscow time) till midnight on Saturday, said a Kremlin statement on Thursday.
This came after the Patriarch of Moscow and All Russia Kirill called for a Christmas ceasefire in Ukraine and Donbass so that the "Orthodox people could attend church services on Christmas eve and Christmas Day."
"Given the appeal of His Holiness Patriarch Kirill, I instruct the Minister of Defense of the Russian Federation (Sergey Shoygu) to introduce a ceasefire regime along the entire line of contact between the parties in Ukraine from 12:00 (0900GMT) January 6, 2023 to 24:00 (2100GMT) January 7, 2023," Putin said in a statement.
Putin urged Ukraine to declare the same.
"Based on the fact that a large number of people professing Orthodoxy live in the combat areas, we call on the Ukrainian side to declare a ceasefire and give them the opportunity to attend services on Christmas Eve, as well as on the Day of the Nativity of Christ," it added.
Orthodox Christians celebrate Christmas Day on 7.
Ukraine, meanwhile, lashed out on Russia's unilateral temporary truce, even called it "hypocricy".
"First. Ukraine doesn't attack foreign territory and doesn't kill civilians. As RF does. Ukraine destroys only members of the occupation army on its territory," Mykhailo Podolyak, adviser to Ukrainian President Volodymyr Zelenskyy, tweeted.
Podolyak also called on Russia to "leave the occupied territories - only then will it have a 'temporary truce'. Keep hypocrisy to yourself." (Anadolu)