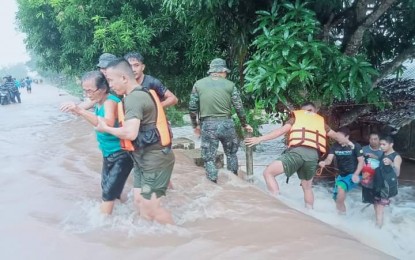 MANILA – Philippine Marine Corps (PMC) units, working with the Palawan Provincial Disaster Risk Reduction Management Office and other rescue organizations, have helped in the evacuation of close to 2,000 families trapped in flash floods on Wednesday.
"The Philippine Marines, through (Marine Battalion Landing Team) MBLT-4 disaster response and rescue team (DRT) were deployed promptly to assist government responders humanitarian assistance and disaster response (HADR) efforts on 04 January 2023," the MBLT-4 said in a Facebook post on Thursday night.
The flash floods which affected the coastal municipalities of Brooke's Point and Sofronio Española were caused by a low-pressure area that hit Southern Palawan.
"MBLT-4, hand-in-hand with Palawan Provincial Disaster Risk and Reduction Management Office, 1st Palawan Provincial Mobile Force Company (PPMFC), Coast Guard District Palawan and other responders, launched disaster response operations for the flash flood victims in Southern Palawan," it said.
The MBLT-4 deployed six disaster response teams to assist the provincial government's HADR efforts.
"A total of 1,975 families were safely evacuated at the (22) evacuation centers of the Municipalities of Brooke' s Point and Sofronio Española," it added. (PNA)