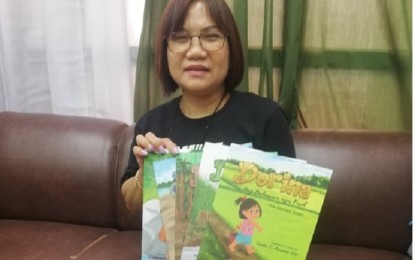 SAN JOSE DE BUENAVISTA, Antique – A South Korea-based children's book author who traces her roots in Antique province is inspiring others to write more books in the local Kinaray-a language.
Linda Arnaez Lee, in an interview Friday, said there are a lot of good writers in the province who needed to be inspired and supported to write in their local language.
"Children could easily understand and relate if they are reading story books in Kinaray-a," Lee said.
She has been writing drama scripts and story books since her student days but realized that there is still a need for children, particularly in the province, to have access to story books in their local language.
She said story books in Kinaray-a for children is one way for the young to appreciate and become familiar with their mother tongue, to which many now have difficulty learning in school.
Kinaray-a is spoken mainly in Antique, Iloilo, Guimaras, and other provinces in the island of Panay.
"The stories told to children especially those with moral values could also not be easily forgotten by the children," Lee said.
Lee recalled that as a young girl, she could hardly borrow fairy tale books from classmates whose parents could afford to buy these.
But her father fondly told her children stories in Kinaray-a that had enriched her imagination until she finally wrote her own story books.
"The story books I have written have moral lessons especially on the protection of the environment," she said.
She won twice in a local book competition in Antique in 2020 and 2021.
Her latest is a series of five books about the adventure of Dorina, a little girl who had exciting adventures with different animal creatures she had encountered.
Lee has an ongoing book exhibit until March 19, 2023 at the Iloilo Contemporary Art Museum in Iloilo City sponsored by the National Book Development Board.
She also took time to visit various schools of the Department of Education (DepEd) Schools Division of Antique where she donated copies of her books. (PNA)