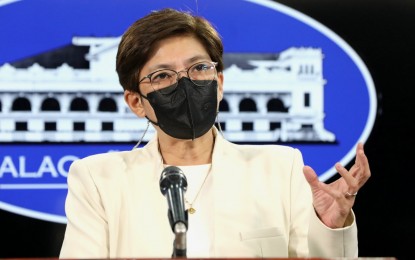 MANILA – There is no need to impose additional Covid-19 restrictions on incoming travelers from China, the Department of Health (DOH) said Friday.
"As to the additional restrictions in terms of what's happening in China, saka po 'yung mga pumapasok sa atin galing sa China, whether it be foreign nationals or Filipinos, wala pa ho tayong nakikitang rason (those entering our country, whether it be foreign nationals or Filipinos, we don't see any reason) based on science and evidence, that we should add additional restrictions," said DOH officer-in-charge, Undersecretary Maria Rosario Vergeire, in a media forum.
Vergeire made the statement in response to concerns and suggestions for tighter restrictions on travelers coming from China where Covid-19 cases has increased.
The DOH has implemented heightened surveillance of incoming travelers after eight unvaccinated Filipinos from China tested positive for Covid-19 upon their arrival at the Ninoy Aquino International Airport between Dec. 27, 2022, and Jan. 2, 2023.
The current protocols being implemented are proven effective and decisions on them "should not be based on China's situation because "an interaction between and among different populations has happened globally," Vergeire said.
Close contacts identified
The DOH has identified the 89 close contacts of the eight unvaccinated Filipinos from China who tested positive for Covid-19.
Vergeire assured the public that all of them are being monitored by health authorities and respective local government units.
Only one of them manifested Covid-19 symptoms and is currently under isolation after getting the test.
About 19 close contacts - 18 foreigners and a Filipino - were identified on the first flight. Of the 19, 17 are fully vaccinated, one is partially vaccinated, and one is unvaccinated.
Sixteen foreign and seven Filipino close contacts were identified on the second flight. All of them are fully vaccinated.
Around 27 fully vaccinated Filipinos were identified as close contacts on the third flight. Twenty-six of them were asymptomatic while one manifested symptoms.
Meantime, 12 foreigners and eight Filipinos were identified as close contacts on the fourth flight. (PNA)