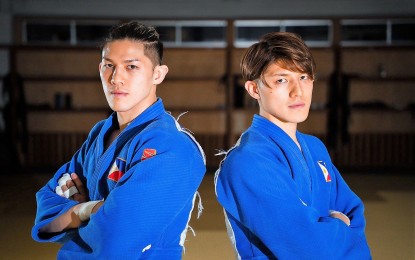 MANILA – The hunt for 2024 Paris Olympics slots continues for Filipino Japanese siblings Shugen and Keisei Nakano as they compete in the Grand Prix Portugal, the first event of the 2023 World Judo Tour, scheduled from Jan. 27 to 29.
The twins were among the 425 athletes -- 243 men and 182 women -- from 63 countries who have registered for the tournament to be held at the Municipal Sports Complex in Almada City, Portugal.
"This year is a very important year related to the Olympics, so I want to do my best to accumulate points," Shugen said in an interview on Monday.
He won one title from nine tournaments last year and is currently world No. 101 in the minus 66kg category.
"Compared to the number of tournaments I have participated in, last year's results were not as good, but I was able to raise my rankings earlier than in previous years," said Shugen, who beat Kerin Vasapolli of French Polynesia to win the 2022 Tahiti Oceania Open.
"I'm happy to win in Tahiti because it's my first medal and title in the Olympic qualifying round," he added.
Keisei, who settled for the bronze medal in the minus 73kg category, is now ranked No. 77 in the world.
Kiyomi Watanabe, another Filipino Japanese who saw action at the 2020 Tokyo Olympics, will also compete in Portugal.
Watanabe, the world's No. 117 in the women's minus 63kg. category, was eliminated in the first round by Spanish Cristina Cabana in Tokyo. She sustained a foot injury that prevented her from defending the gold medal at the 2022 Vietnam SEA Games.
"All the tournaments under the "International Judo Federation (IJF) World Tour" are Olympic Qualifying events. The more tournaments they join, the more points they earn," Philippine Judo Federation (PJF) former president and current secretary general David Carter said.
Other tournaments lined up for the three judokas are the SEA Games in Cambodia on May 5-16 and the Asian Games in Hangzhou, China from Sept. 23 to Oct. 8 this year.
Last year in Vietnam, Shugen bagged the gold medal while Keisei got the silver medal. Filipino Japanese Rena Furukawa also delivered a gold medal in the women's minus 57kg category. (PNA)