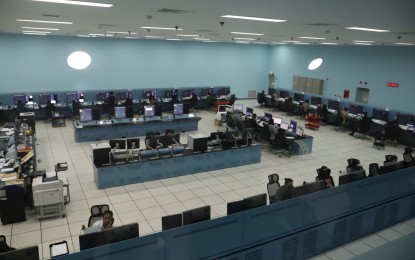 MANILA – Senator Grace Poe on Monday suggested the privatization of the country's air traffic control and modernization of the Ninoy Aquino International Airport (NAIA) to prevent a repeat of the New Year's Day mess that affected some 65,000 passengers.
In an interview with a news channel, Poe recalled that talks to modernize NAIA started in 2017, to be handled by a mega consortium.
"Can you imagine if we awarded it to them in 2018 or 2019? During the pandemic, it would have been a downturn for them but they could have rehabilitated the airport easily because there wasn't so much activity during that time," Poe said.
She cited the privatization's impact in the passenger terminal of Mactan-Cebu International Airport that was completed in 2018.
"We've seen this example in Cebu and I think that GMR Megawide Cebu Airport Corp. has done a fairly good job in designing the airport and running its operation," Poe said.
"I believe it's time for this [privatization]. We still need the Bulacan airport because no matter what improvements you do with the terminals in NAIA, you will never have more than two runways at this point, but you can always improve efficiency," she added.
The PHP735-billion New Manila International Airport in Bulakan, Bulacan stood at 42-percent completion as of November 2022 and is targeted for completion by December 2024.
It is expected to decongerst NAIA when it starts accommodating about 100 millions passengers annually.
On Jan. 12, the Senate Committee on Public Services, chaired by Poe, will open the inquiry into the air control system mess that disrupted some 300 flights.
Poe said officials of the Department of Transportation and Manila International Airport Authority are among those invited to the hearing.
CAAP Director General Antonio Tamayo said they are ready to face the senators and recount what happened.
"We've been working on this in the past several days. In fact, sleepless nights we've been meeting for updates, findings and to make sure that we give accurate information. We will not be withholding any information at all. Sa amin lang, ilalabas namin kung anong nangyari (For us, we will tell what really happened)," Tamayo told reporters during the Governance Commission on Government-Owned and Controlled Corporations (GCG) inspection of the CAAP's Air Traffic Management Center in Pasay City on Monday.
The CAAP's reorganization is ongoing and is a priority, he added.
"In the past, they were able to do and study the reorganization that is ideal for CAAP. Kami naman (On our part), we would like this implemented hopefully within this quarter para maayos natin (so we can fix it)," Tamayo said.
Senator Sonny Angara said the technical glitch should prompt the government to implement institutional reforms in CAAP.
The reforms in his Senate Bill 1003, or an Act Strengthening the CAAP, include adding the Secretary of Tourism, Secretary of National Defense and two representatives from the private sector to be appointed by the President as members of the CAAP board.
Angara said CAAP's fiscal autonomy will be enhanced with the grant of an exemption from the coverage of Republic Act (RA) 7656 or the Dividend Law so that it could maximize the use of its revenues and exempt it from the coverage of the GCG Law as well as the Salary Standardization Law.
RA 7656 requires all GOCCs to declare and remit at least 50 percent of their annual net earnings as cash, stock or property dividends to the national government.
"The technical glitch that took place last January 1 was a wake-up call for all of us about the need to address the gaps in our air transport systems and the CAAP is front and center in all of this, which is why we have to institute the necessary reforms to provide the agency the tools necessary to effectively fulfill its mandate," Angara said in a statement.
Meanwhile, Transportation Undersecretary Roberto Lim said they are studying the possibility of creating a separate government authority for CAAP that will run the Communications, Navigation and Surveillance system.
"Matagal na 'tong pinag-iisipan (This was being planned for a long time). Several administrations have looked at this. I think it's about time that we make a push for this recommendation. Of course, we will need legislation for this and the GCG," Lim said in an interview. (PNA)