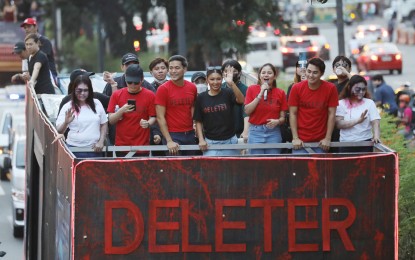 MANILA – The gross sales at the recent Metro Manila Film Festival (MMFF) has reached its target of PHP500-million.
In a news release Monday, Metropolitan Manila Development Authority and MMFF over-all chair Romando Artes said the 2022 film festival is a "certified box office hit".
With the theme "Balik Saya," all the eight films were shown in cinemas nationwide from Dec. 25, 2022 up to Jan. 7, 2023, and now extended until Jan. 13, 2023.
Based on the gross sales receipts, Artes said the top four entries include Deleter, Family Matters, Labyu with an Accent and Partners in Crime.
"Rest assured that the MMFF will exert all efforts by encouraging our stakeholders, especially the local entertainment industry, to create quality films. I urge each and every one of you to patronize Filipino films," he said.
Meanwhile, Artes said the MMDA would launch the Metro Manila Summer Film Festival in April, in partnership with Cinema Exhibitors Association of the Philippines.
"We will release the deadline of submission of entries as early as we can so that interested producers and filmmakers may be guided accordingly," he said.
The Parade of Stars for the MMFF Summer Edition will be held on April 1 and the Awards Night on April 11.
The Metro Manila Summer Film Festival will run from April 8 (Black Saturday) to April 18, in cinemas nationwide. (PNA)