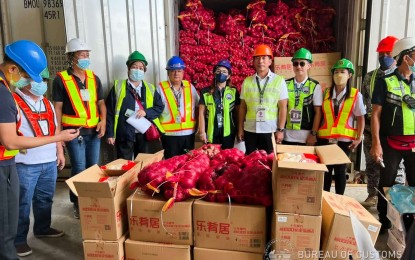 MANILA – The House Committee on Ways and Means will look into reports of alleged rampant agricultural smuggling at Subic Port after millions of pesos worth of smuggled goods were recently seized at the freeport, its chairman said on Monday.
In a statement, Albay Rep. Joey Salceda said the "nonchalance" of the Subic Bay Metropolitan Authority (SBMA) in the face of legitimate concerns about smuggling through the port is "unacceptable", as it shows the "kind of institutional inertia that breeds corruption and kills local Philippine industries".
"Probes as recently as 2020, 2021 and 2022 show that Subic is a haven for both technical and actual smuggling," Salceda said.
He noted that at least four seizures of smuggled agricultural products were made in Subic in December alone. Some 7000 metric tons of smuggled sugar was also intercepted in Subic in August.
"Any government agency with some vestige of authority cannot call itself nonchalant or indifferent, especially in the face of a monstrous, job-killing and predatory enemy like large-scale smuggling," he said.
Salceda claimed that there is credible information that the Subic port undercharges tariffs per container van by just as much as 1/8th of the actual tariff dues, or around PHP100,000 per container van of imported meat instead of PHP800,000.
"We are prepared to name names at the proper time. For now, we will protect our sources," he said.
He also claimed that there are well-known brands in the meat industry procuring from smugglers.
Salceda warned that Presidential Decree No. 1612 or the Anti-Fencing Law penalizes buying items that one should know is from crime, such as smuggling.
"We will point them out in the proper time. The Ways and Means Committee will aggressively run after them," he said.
He plans to recommend changes to the implementing rules and regulations of the said law to complement and reconcile the visitorial powers of the police and the visitorial powers of the Bureau of Customs under the Customs Modernization and Tariff Act.
"As always, the Committee will both try to catch perpetrators but also deal with the issue in a more long-term way through reforms in policy and government procedures," he said.
Salceda said the panel will "focus strongly" on helping the Marcos administration in its crackdown on smuggling.
"President Marcos wants to fight the double whammy of high domestic agri prices and high rates of agri smuggling which benefit only the smugglers. We join him in that fight," he said. (PNA)