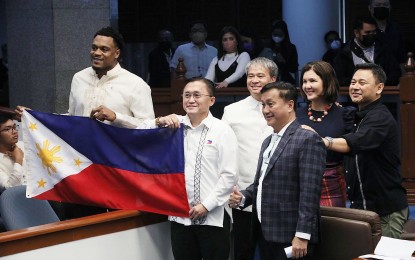 MANILA – Justin Brownlee will have to learn a different basketball system once he suits up for Gilas Pilipinas in the February window of the FIBA World Cup Qualifiers.
He, however, will not be alone in adjusting to coach Chot Reyes' dribble-drive offense as no less than his coach at Ginebra, Tim Cone, will be with him as well.
Cone and Jong Uichico have been tapped to help Reyes coach Gilas in the February window and the FIBA World Cup itself from Aug. 25-Sept. 10.
"Having coach Tim is a big plus. He knows me inside and out now, and he's coaching me since 2016," Brownlee told the Philippine News Agency in a recent interview.
Brownlee, however, said he also looks forward to being coached by Reyes.
"He's a great coach here in the Philippines and internationally as well, so I'm just looking forward to trying to soak up as much game and knowledge as I can from both [coaches Chot and Tim]," Brownlee said.
He also believes that the Reyes-Cone tandem, which began in the late 80s when Cone was coaching Alaska with Reyes as an assistant, will benefit Gilas in its bid for the FIBA World Cup.
"We got two head coaches in one coaching staff. That's a big plus," he said. "I'm blessed to be coached by coaches... in the national team. With coach Chot, I'm very blessed to have some great minds to be on the team."
Brownlee is currently awaiting the signature of President Ferdinand R. Marcos Jr. or for the legislative bill seeking his naturalization to lapse into law so he can be eligible to play for Gilas. (PNA)