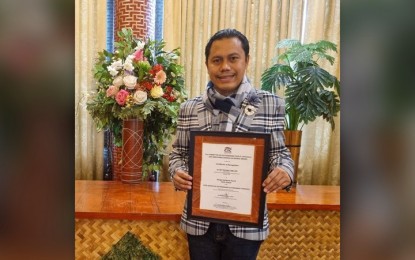 MANILA – A head teacher in the province of Aklan was recognized on Tuesday as the national winner of the Dangal ng Bayan Awards, or the search for outstanding government workers for 2022, according to the Civil Service Commission (CSC).
In a statement, CSC chairperson Karlo Nograles lauded the remarkable public service of Ju-Im Jimlan.
"For upholding public interest, particularly student welfare, over and above personal interest, he is one of this year's recipients of the Outstanding Public Officials and Employees or Dangal Ng Bayan Award," he said.
Jimlan is currently Head Teacher 1 at the Tamalagon Integrated School in Aklan.
The CSC mentioned Jimlan's backstory which contributed to the level of passion he has for teaching.
"Tamalagon Integrated School Head Teacher I Ju-Im T. Jimlan's painful experiences as a child growing up in Marawi motivated him to be the best teacher he can be by knowing that education is key in changing a child's life," the CSC said.
In fact, he has initiated several teaching strategies for learners in their school.
"He developed innovative teaching approaches and information materials such as Tuklas-Aral, Bisita-Kumustahan, Modyul Mo, Hatod Ko, among others," the CSC added.
Jimlan also helped his community combat the effects of the coronavirus disease 2019 (Covid-19) pandemic and natural disasters in his simple ways.
"He is active in community work, volunteering as a responder during Typhoon Odette and organizing donation drives for Covid-19 frontliners," the CSC said.
The Dangal ng Bayan Award, meanwhile, also included several awardees in the sector of state auditing, social welfare and development, administration and planning, and the medical sector, among others.
The award was given to an individual for his or her "extraordinary act or public service," as well as "exemplary ethical behavior."
Rounding up the 2022 Dangal ng Bayan awardees are: State Auditor IV Adeline P. Baarde of the Commission on Audit in Tuguegarao City; Social Welfare Officer III Georgina M. Bulasa of the Department of Social Welfare and Development Field Office VIII in Tacloban City; Elementary School Principal II Rowan L. Celestra of Buenavista Elementary School, Department of Education, Sorsogon West District In Sorsogon City; Administrative Assistant II Thea Maria Rica S. Del Rosario of the Department of Social Welfare and Development Regional Office III in San Fernando City, Pampanga; Customer Associate Reymond D. Gonzales of the Landbank of the Philippines-Zamboanga Main Branch in Zamboanga City; Planning Officer II Adrian A. Jandusay of the Municipality of Sampaloc in Quezon Province; Librarian II Antonio L. Morada under the Curriculum and Learning Management Division of the Department of Education Regional Office V in Legazpi City; Tarlac City's San Manuel Elementary School Teacher III Rizalina R. Nacpil; and Medical Specialist III Dr. Annie Claire B. Pekas of the Luis Hora Memorial Regional Hospital in Bauko, Mountain Province.

CSC Pagasa award

The CSC also announced the awardees for the CSC Pagasa Award. which is conferred to individual or group of individuals for outstanding contributions that directly benefit more than one department of the government.

"It is with pride that I announce the winners of the Civil Service Commission (CSC) Pagasa Award as these lingkod bayani (public service heroes) are considered gems in public service. They belong to that distinct group of government workers who quietly and without fanfare, pursued their public service mandates with indefatigable commitment, excellence, and integrity, to the extent of putting their lives on the line in the spirit of delivering much needed services, especially in the grassroots," Nograles said.

One of the recipients of the award is the Community-based Rice Mushroom Production Team of the Bataan Peninsula State University (BPSU).

Their initiative uplifted the lives of rice farmers in Bataan by introducing and promoting an integrated farming system approach through mushroom production, vermin composting, and off-season vegetable production using rice straws.

The team's research-based technology transfer trainings, capacity building on crop diversification, and entrepreneurial skills development for farmers have significantly improved the latter's production capacity, productivity, competitiveness, and sustainability.

Another CSC Pagasa awardee is from the Department of Education's Division of Panabo City in Davao del Norte, Chief Education Supervisor Ailene B. Añonuevo.

She made sure that education is accessible to indigenous peoples or IPs.

Her research on the alarming dropout rate of IP learners due to the distant location of their schools, as well as her dedication to initiate the project and establish partnerships with donors, led to the construction of Balay Paglaum Para sa Estudyanteng Lumad, an intitiative which resulted to zero non-reader and zero dropout records, and with IP beneficiaries finishing secondary education.

Rounding up the recipients of the CSC Pagasa are: Professor VI Edward A. Barlaan of the University Of Southern Mindanao, Kabacan, North Cotabato; Master Teacher I Pablita R. Cabarles of Manga National High School, Division of City Schools-Tagbilaran City, Department of Education; City Government Department Head I (City Health Officer) Dr. Fulbert Alec R. Gillego of the City Government of Legazpi; and the eGOV Technical Team of the Provincial Local Government Unit of Davao De Oro.

The annual Search for Outstanding Government Workers is administered by the CSC's Honor Awards Program (HAP).

For more information on the Search and the awardees, contact the HAP Secretariat, Public Assistance and Information Office through email address: [email protected]; Contact Center ng Bayan email address: [email protected] and via the CSC Facebook page at www.facebook.com/civilservicegovph. (With reports from Jose Cielito M. Reganit/PNA)