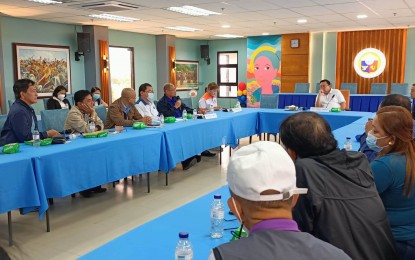 ILOILO CITY – The Department of Public Works and Highways (DPWH) has vowed to work overtime to accelerate the construction of the two-lane road on both sides of the defective PHP680-million Ungka II flyover that remains closed until now.
"We are working on it overtime," said DPWH Regional Director Nerie D. Bueno during Tuesday's dialogue called by Iloilo City Mayor Jerry Treñas.
Bueno said the two-lane road is expected to ease traffic before the Dinagyang Festival and until its highlight on Jan. 22.
"As of the moment we are also asking permission from our Bureau of Design if we can open the flyover (for light vehicles) just in time for the Dinagyang. As of this time we have yet to get their approval," she added.
Bueno added that they have instituted temporary intervention to the flyover so maybe it could accommodate light vehicles just for the festival.
She was unsure though if it could be open continuously after the celebration since they would like to conduct a long test to determine the stability of the structure.
The city mayor has called for the dialogue to get updates on the flyover project straddling Iloilo City and a portion of the municipality of Pavia.
Treñas said the two-lane road project should have been done a long time ago.
In a follow-up interview, he said the public must have regular updates, which the DPWH committed to provide every Tuesday.
Treñas added that he understood that the regional office needs a third-party consultant because there might be something wrong with the design made by the central office that was only followed by the regional office.
The mayor also looked forward to receiving more updates from DPWH Secretary Manuel Bonoan who is expected to arrive in Iloilo on Friday.
The structure has been closed to the public since Sept. 18, 2022, just more than a week after it was fully opened to traffic, due to vertical displacement that was observed in its three piers. (PNA)