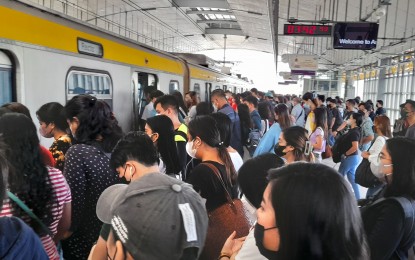 MANILA – The Light Rail Transit Line 1 (LRT-1) and 2 (LRT-2) are awaiting the approval of the fare hike from their board of directors and regulators.
In a statement Thursday, Light Rail Transit Authority (LRTA) Administrator Hernando Cabrera said the fare increase "will go through the proper process" and noted that the recent approval of the Land Transportation Franchising and Regulatory Board (LTFRB) for the fare hike is just one of nine different members of the LRTA Board of Directors.
"The fare increase must be approved by the LRTA Board of Directors, and must likewise pass through the required regulatory process which includes public consultation/hearing," Cabrera said.
On Wednesday, the LTFRB approved a resolution from the LRTA to increase its boarding fare by PHP2.29 plus PHP0.21 per kilometer or distance fare.
Once approved, the boarding fare of the LRT-2 will increase to PHP13.29 plus a distance charge of PHP1.21 per kilometer -- compared to the current boarding and distance fare of PHP11 and PHP1 respectively since 2015.
The other board members of the LRTA -- the operator and maintenance provider of the LRT-2 -- are the Department of Transportation, Department of Finance, Department of Budget and Management, National Economic Development Authority, Department of Public Works and Highways, Metropolitan Manila Development Authority, and two appointed directors.
These appointed LRTA directors are Cabrera and lawyer Dimapuno Datu.
On the other hand, Light Rail Manila Corporation (LRMC) Spokesperson Jacqueline Gorospe said the fare adjustments for the LRT-1 are still being finalized and awaiting the approval of regulators.
"LRMC is ready to implement whatever new fares will be approved by our regulators," Gorospe said. (PNA)