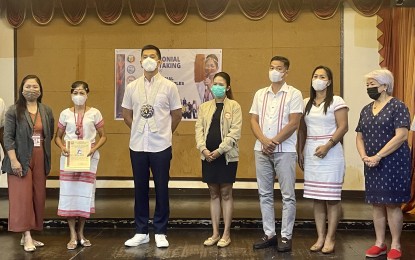 LAOAG CITY – The Ilocos Norte government and the National Commission on Indigenous Peoples (NCIP) is pushing for the crafting of an IP legislative agenda to strengthen the promotion of IP rights and welfare.
This came following the historic oath-taking of Cheryll Tabangay, the first IP mandatory representative in the province as a member of the Provincial Board.
While pushing for the unification of all tribes in the province, lawyer Harriet Abyadang, regional director of the NCIP in Ilocos, said the crafting of the IPs' long-term and short-term legislative agenda is needed to set the right direction and encourage the IPs to participate full at all levels of decision-making in matters which may affect their rights, lives and destinies.
The creation of the agenda will be done in consultation with the 30 organizations representing the entire IP community of the province covering the towns of Adams, Pagudpud, Dumalneg, Bangui, Vintar, Marcos, Dingras, Carasi, Solsona and Nueva Era.
A general consultation meeting with the IPs has been set in time for the celebration of IP month in October to know the actual status of the IPs and address their concerns.
As to their beliefs, customs, traditions, and institutions, Governor Matthew Joseph Manotoc on Thursday lauded the NCIP's effort to realize the assumption of a mandatory IP representative in the provincial board.
He said the Ilocos Norte government has waited for eight years in search for an IP representative. Tabangay won by open nomination last November 2022.
"It has been a long and arduous process. Finally, we have one in the province," Manotoc said.
For her part, Tabangay thanked the support of her tribe and the entire IP community for their trust.
"I am not promising anything but I will do my best to serve and protect the rights and welfare of the IPs," she said.
Like in other parts of the country, the IPs in the province are engaged in a constant struggle to take control of natural resources and land against intrusion by external developers, state interest and commercial pressures brought up by practices such as mining and agribusiness. (PNA)