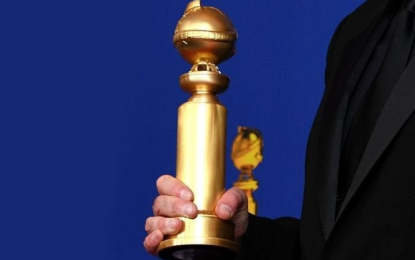 MANILA – The chairperson of the House Committee on Creative Industry and Performing Arts on Thursday lauded Filipina actress Dolly de Leon's nomination in the prestigious Golden Globe Awards.
Pangasinan Representative Christopher de Venecia said De Leon's nomination in the Best Supporting Actress category is the "fruit of her achievement" in the highly-acclaimed film, Triangle of Sadness, that would "turn the world's eyes towards the Philippines as a hotbed of Filipino talent".
"Let's celebrate her nomination, and hope for an Oscar nomination to continue her groundbreaking streak and make history," De Venecia said. "Dolly's Golden Globe nomination may not be the last in this year's awards cycle because Triangle of Sadness has generated much buzz in the industry."
De Venecia said he is expecting more high-quality acting opportunities for De Leon and other Filipino actors, now that she has drawn much attention for her remarkable role in the movie.
"Dolly has come a long way from her first film credit in Shake Rattle & Roll III in 1991. She has acted in a slew of films and theater productions, more so since 2019. Dolly is destined for more films and TV series now that international producers and audiences have taken keen notice of her," he said.
He emphasized the need to provide more opportunities for Filipino talent to shine on the global stage, especially with the implementation of RA 11904 or the Philippine Creative Industries Development Act to help make this possible.
"Dolly's achievement would hopefully embolden more Filipino actors to audition for films and TV roles not just in the United States, but also in Asia and Europe and that international studios would hire more Filipino talent. Filipino actors must prove to the entire world there are more Dolly de Leons here in the Philippines," he said.
He noted that his panel has discussed tapping on government support to launch a massive campaign for the Oscars, as well as exploring possible private-public partnerships to raise support for film campaigns and co-productions.
Other proposals that the House committee tackled were unbundling the costs of cinema tickets; reactivating the Film Academy of the Philippines through the Cultural Center of the Philippines and submit timely entries to the Oscars; creating an accounting framework for the film industry, defining the market structure, and tracing out the flow of funds to identify current demand in the industry; and addressing the lack of statistics and official definitions in the film industry, through updating the Philippine Standard Industrial Classification (PSIC) codes, pursuant to RA 11904.
Top prizes
Steven Spielberg's The Fabelmans and Martin McDonagh's dark comedy, The Banshees of Inisherin, grabbed top honors at this year's Golden Globes.
The Fabelmans, which was named the best movie drama, has also brought Spielberg the "best director" award, which is his third win. The Banshees of Inisherin won in the best musical or comedy film category.
Top TV awards went to Abbott Elementary (Best TV Series for Musical or Comedy), House of the Dragon (Best TV Series for Drama), and White Lotus (Best Limited Series, Anthology Series or Motion Picture Made for TV). (with reports from Anadolu/PNA)