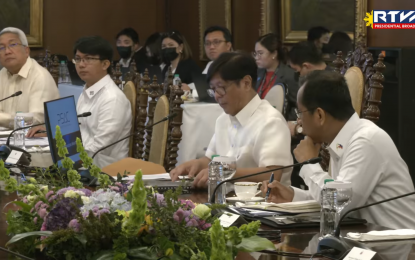 MANILA – President Ferdinand R. Marcos Jr. on Thursday asked for an update on the implementation of the Republic Act (RA) 11934 or the Subscriber Identity Module (SIM) Registration Act.
This, as Marcos convened a meeting with officials of the Private Sector Advisory Council (PSAC) at Malacañan Palace's State Dining Room, according to a Facebook post by state-run Radio Television Malacañang (RTVM).
"The President also asks for updates on the ongoing registration of subscriber identity module (SIM) cards as mandated under Republic Act No. 11934 or the SIM Card Registration Act," the RTVM said.
RA 11934, the first law inked by Marcos, regulates the use of SIM cards by mandating all end-users to register their mobile phone numbers.
The 180-day registration period commenced on Dec. 27, 2022, and may be extended by another 120 days, if needed.
Under the law, all existing SIM subscribers are required to submit an accomplished form through a database platform or website provided by the telecommunications firms within 180 days.
Phone numbers that will remain unregistered after six months will be deactivated.
Digital infrastructure work plan
Marcos, during the meeting at Malacañan Palace, also looked into the PSAC's digital infrastructure work plan.
The meeting focused on the "future plans in strengthening the country's digital infrastructure," the RTVM said.
"During the meeting, the Chief Executive reviews the Digital Infrastructure Work Plan presented by the PSAC members," it added.
The RTVM said Marcos also discussed the digital infrastructure plan with officials from the National Economic at Development Authority, the Department of Transportation, the Department of Information and Communications Technology, the Philippine Statistics Authority and the Anti-Red Tape Authority.
One of Marcos' priorities is to attain universal connectivity within the country.
The PSAC, headed by Aboitiz Group President and Chief Executive Officer Saibin Aboitiz, was formed by Marcos to strengthen cooperation and collaboration between the public and private sectors. (PNA)