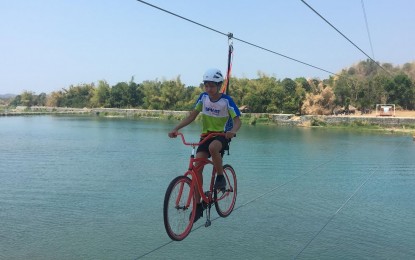 LAOAG CITY – The town of Vintar in Ilocos Norte province is eyeing to improve and introduce more amenities in its eco-tourism nature park to entice more visitors.
Located about 46 kilometers from this city, the Umok ni Siwawer Eco-Tourism Nature Park in Barangay Parparuroc has been drawing a lot of nature lovers and picnickers since 2019 until the pandemic restricted movement of people.
As one of the local revenue sources of the municipality through the collection of entrance and rental fees of sports amenities, the nature park improvement will go in full swing early this year, said Mayor Richard Degala in an interview Friday.
Degala said a new building where visitors can stay overnight in the area will be constructed, including the establishment of a coffee shop, a swimming pool and new cottages with outdoor overhead showers.
"This will be constructed by phase," said Degala, adding that the tourism project will be one of his administration's priority to help generate more jobs for the locals.
To attract more visitors, the Vintar government also plans to establish a food park where people can relax with the natural ambience of the eco-park overlooking verdant mountains and the clean Bislak river.
Aside from a bike zipline, tourists may also want to try other sports amenities such as surfline, all-terrain vehicle (ATV), hydrocycle water bike, floater, zurball and kayak with fees or rental rates ranging from PHP50 to PHP1,000.
The park, manned by local government personnel, is open from Mondays to Sundays from 8 a.m. to 5 p.m. (PNA)