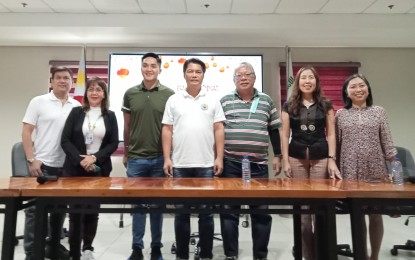 BACOLOD CITY – The return of the Bacolaodiat Festival, this city's grand Chinese New Year
celebration, from Jan. 20 to 22 indicates the continuing "new normal" amid the coronavirus disease 2019 (Covid-19) pandemic, local officials and organizers said on Friday.
This will be the first time the festival will be celebrated face-to-face after a two-year respite in 2021 and 2022 due to mass gathering restrictions brought by the global health crisis.
Mayor Alfredo Abelardo Benitez said he hopes this year's Chinese New Year celebration will be the start of the better years to come for Bacolod.
"I'm hoping that this celebration after two years, will bring back the confidence of the people to start living and doing their normal chores. Worldwide, we've been going back to our normal activities," Benitez said in a press conference with officials of Bacolaodiat Inc., the festival organizer, at the Government Center here.
As part of the city's support to the event, the city council has approved a PHP3-million financial assistance for the staging of the festival's 18th edition.
Bacolaodiat Inc. secretary Oddette Ong-Gomez said they are hoping for the support of the people of Bacolod for the return of the Chinese New Year festivity.
"All over the world, most people no longer wear masks. We have moved on. We have immunity," she added.
Showcasing the harmonious merging and co-existence of both Chinese and Filipino cultures, Bacolaodiat presents cultural performances, lantern dance parade, dragon and lion dances, Chinese food fests, fireworks display, zodiac sign parade and live bands.
Bacolaodiat derived its name from two words -- "Baco" for Bacolod and "Lao Diat," a Fookien word for celebration.
Based on the Chinese zodiac, 2023 is the Year of the Rabbit, a tame creature that represents hope and life.
This year's festival will open in the afternoon of Jan. 20 with a Dazzling Grand Parade from Megaworld's The Upper East to the Government Center grounds.
The parade will be joined by Chinese-Filipino families, city officials, and students from Chinese schools.
It will be followed by the ceremonial lighting of lanterns and lotus, cultural show and the fireworks display dubbed as Sparkling Symphony of Lights.
For three days, The Upper East will host the Imperial Village and the Chopsticks Alley, which features Chinese cuisines and Filipino street food favorites.
The Lantern Street Dance competition will be held on Jan. 21 in both The Upper East and Government Center, and the winners will be awarded on Jan. 22 at SM City Bacolod.
"We are optimistic and it is our aspiration that the comeback of the Bacolaodiat Festival this year will be more vibrant, happier and meaningful to everyone, considering that we are easing out of the pandemic," Bacolaodiat Festival chairman John Stephen Sy said in a statement. (PNA)