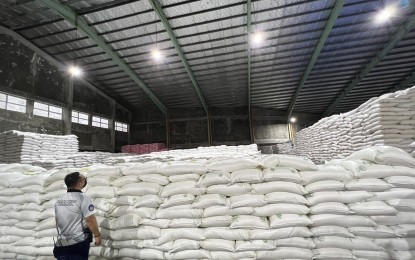 MANILA – As part of the measures to ensure a sufficient reserve of sugar in the country, President Ferdinand R. Marcos Jr. said Sunday the government will now maintain a two-month buffer stock of sugar.
"We will maintain from now on, in sugar, a two-month buffer stock… so that people will know hindi tayo magkaka-shortage dahil lagi tayong mayroon two-month na buffer stock which I will maintain (that we will not be having shortage because we will have a 2-month buffer stock which I will maintain)," Marcos told reporters in an interview on board PR001 en route to Davos, Switzerland for the World Economic Forum (WEF).
Aside from ensuring a buffer stock, the chief executive likewise discussed his administration's plans against smuggling and improving the production side of agricultural products.
"The smuggling, 'yun talaga… kailangan talagang i-solve 'yun. Masyadong laganap ang smuggling dito sa Pilipinas kahit na ano ini-smuggle eh (we really to solve it. Smuggling in our country is so rampant that they smuggle anything). So we have to really look into that and we have some very good ideas," Marcos said.
Marcos said there are strategies against smuggling implemented by other countries that the Philippines can adopt.
The chief executive also noted that the digitalization of the Bureau of Customs (BOC) "is going to be an important part of that."
In a meeting with the Private Sector Advisory Council (PSAC) last week, the President said the present system isn't working and that government agencies must do something to decisively address rampant smuggling.
Marcos ordered reform in the bureaucracy to curb smuggling, lower logistics costs and ensure the ease of doing business as his government works to prop up investments and business activities in the country.
With regard to production, the chief executive told reporters that the government should help the sugar industry and onion growers.
"The most important facet of this whole problem is production. We have to go back to the sugar industry. We have to go back to the onion growers and help them para magkaroon tayo ng production, hindi na tayo kailangan mag-import (to have more production, we don't need to import)," Marcos said.
The President lamented how the country is so used to importation instead of enhancing the production side.
"Diyan tayo naipit eh. Nasanay tayo masyado sa import. So import lang tayo nang import, hindi natin inaayos 'yung production side (That's our problem. We are so used to importation. We just import, we don't improve the production side)," Marcos said.
"Kaya nung tinamaan tayo ng pandemya, ramdam na ramdam natin (That's why when pandemic hit us, we really felt the impact). Same thing like now, when we lost supply from abroad or when we take supplies from abroad, 'yung inflationary forces doon nadadala rito sa Pilipinas (the inflationary forces there reaches the Philippines)," the President pointed out.
Meanwhile, the President said the government was forced to import onions to ensure sufficient supply as well as stabilize prices in the market.
"May nagsasabi, onion, hindi kailangan mag-import. Papaano naman hindi tayo kailangan mag-import? Tingnan mo 'yung production ng Pilipinas, tingnan mo 'yung demand, malayo talaga. Sinubukan natin na makuha lahat ng mga smuggled pero kulang pa rin kasi hindi rin natin nagamit 'yung smuggled (Some said, we don't need to import onion. How come we don't need to import? Look at the production in the Philippines, look at the demand, there's really a big gap. We tried to get all the smuggled but still not enough because we didn't use the smuggled)," Marcos said.
Department of Agriculture Assistant Secretary Kristine Evangelista earlier announced that the government will implement a calibrated importation of onions to safeguard the farmers during the harvest season. (PNA)