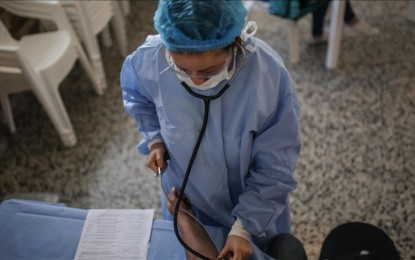 MANILA – The Department of Health (DOH) is working on salary standardization and improvement of benefits among healthcare workers (HCWs) both in the public and private sector to encourage them to stay and serve the country.
During a media forum, DOH officer-in-charge Maria Rosario Vergeire said the department sees the out migration of healthcare professionals to different countries needing to hire them to fill gaps in their workforce which may be brought by resignation or by the pandemic.
"We cannot prevent our healthcare workers from leaving because that is their right also to find more productive, and higher salary for them," she said.
Earlier, the De La Salle University Medical Center employees' union said the active recruitment and offering of attractive packages to Filipino nursing students by the United Kingdom and Germany could affect the country's healthcare system.
"So, ngayon ang ginagawa ng ating gobyerno nakapagpasa tayo ng isang bill na pino-propose natin sa ating legislative body kung saan (So, now we passed a bill where we're proposing to our legislative body) we're proposing to standardize the salaries between private and public healthcare workers so there will be no distinction and it becomes competitive across different cadres of our healthcare workers)," Vergeire said.
She added that the DOH is studying how the government can provide better benefits to HCWs and more scholarships for students interested to work in the health or medical field.
Last year, the DOH reported that there are 80,907 students enrolled to its DOH e-learning modules and an additional 653 pre-service and in-service scholars. These figures brought the overall tally of its scholars to 2,230.
To bolster the healthcare workforce, the DOH also launched international scholarship programs for 50 public health professionals and led the development of a scholarship program with the Philippine-American Educational Foundation to facilitate the grant of scholarships and research programs and exchanges under the DOH's capacity-building and research initiatives as provided in the Universal Health Care Law.
"We are doing all these now so we can further incentivize, we can further encourage our healthcare workers to stay here in the country and serve the country," Vergeire said. (PNA)