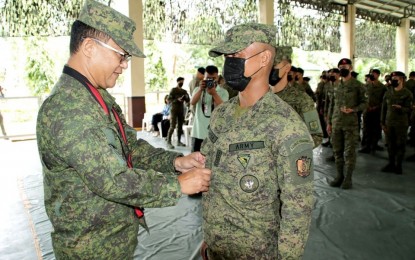 MANILA – The Philippine Army (PA) announced that 164 troops have qualified as members of the elite Scout Rangers.
"A total of 164 troops received the 'Tabak' badge during the Scout Ranger Course (SRC) graduation rites at Camp Pablo Tecson, San Miguel, Bulacan on Jan. 17, 2023," Army spokesperson Col. Xerxes Trinidad said in a statement Wednesday.
Trinidad said the troops have completed the 10-month training course to become a member of the Army's prime counter-terrorism unit.
1001st Infantry Brigade Commander Brig. Gen. Jesus P. Durante III, the ceremony's guest of honor and speaker, praised the 164 members of SRC Class 218-22 for successfully passing the grueling training course.
"I would like to congratulate all the members of the class for earning the prestigious Tabak. When you go back to the field, prove the skill, stamina, and spirit of a Scout Ranger and deliver the combat excellence and discipline you gained during your training," he added.
The Scout Rangers, who are under the First Scout Ranger Regiment (FSSR), are tasked with specialist missions, such as anti-guerrilla operations, counter-terrorism, hostage rescue, unconventional warfare, jungle warfare, raiding operations, ambushes, close-quarter combats, urban warfare, and sabotage.
The FSSR, established on Nov. 25, 1950, consists of five battalions. Its headquarters is located at Camp Tecson, San Miguel, Bulacan.
"For more than seven decades, Scout Rangers – known for their moniker 'Musangs' – have shown true grit and audacity on the battlefield. The 'Musangs' have never wavered in leading the way and delivering decisive results in combat operations against enemies of the state," Trinidad said. (PNA)