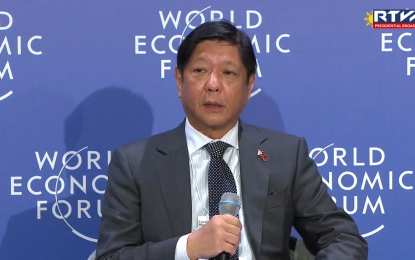 MANILA – President Ferdinand R. Marcos Jr. on Wednesday expressed openness to work with the participants of this year's World Economic Forum (WEF) to ensure global food and nutrition security.
During the Panel Session on Moving Towards Nutrition Security at WEF in Davos, Switzerland, Marcos said WEF attendees and other stakeholders should come up with a "holistic and integrated plan covering both food security and nutrition security."
"The work of the WEF's new frontiers of nutrition, a vital component of the equally-vital future of consumption platform is commendable in this regard, in providing us all with a first big leap towards nutrition security through a common paradigm on the purpose of nutrition and the future of food and developing principles and indicators to sustain our efforts while aiming to create economic value for nutrition," Marcos said.
"Friends and partners, I look forward to productive and insightful outcomes from these discussions today. I'm confident we will be able to arouse high impact, actionable and collective ideas to stir us all forward on our common goal of nutrition security not only in health and food but especially in the quality of that food," he added.
Marcos made the remark, as he stressed that food security remains at the forefront of his administration's national agenda, anchored on the vision for a "prosperous, resilient and secure Philippines" by 2040.
He said the Philippine government's overarching goals are to build an inclusive society "where no one is hungry, where Filipinos live long and healthy lives, where they are provided with an environment built upon trust and security, and where they can be innovative and remains smart and responsive to the problems of the day."
"Underscoring all these lofty goals is ensuring that each and everyone is provided with quality and ample nutrition," Marcos said.
Citing a 2021 Global Food Security Index which ranked the Philippines at 64th out of 113 nations in terms of four dimensions on food security, Marcos emphasized that despite significant gains in the past few years, much remains to be done to attain Sustainable Development Goal 2 on Zero Hunger.
In a bid to help nations attain nutrition security, Marcos made several suggestions, which include boosting agricultural and fishery productivity, improving logistics systems and changing people's lifestyles.
Marcos also recommended the use of climate-resilient technologies and the promotion of urban and vertical farming to increase food production.
"We must invest in facilities, logistics and systems that bring nutritious food to our people, much like a grander scale of farm-to-table and increase the capacity of our institutions to enforce regulations that enhance food quality," he said.
"We must also cooperate to develop technologies that increase the nutritional value of our food and content and prolong their shelf life," Marcos added.
Marcos said governments must also incentivize a nutritious lifestyle; promote active and health-seeking behaviors across different ages and income levels; and create an ecosystem based on the concept of a green and circular economy.
This, as he stressed the need to pursue key interventions that are those geared toward making food "available, affordable and accessible" amid the looming global food and energy shortage.
The Panel Session on Moving Towards Nutrition Security at WEF aims to provide an overview of the growing global nutrition crisis, identify the key tenets of change needed towards driving positive nutrition and health outcomes, and share strategies and solutions that can increase the availability, access and adoption of nutritious and healthy food choices at scale.
The event also seeks to raise awareness in the critical role of nutrition security in increasing individual and society resilience. (PNA)