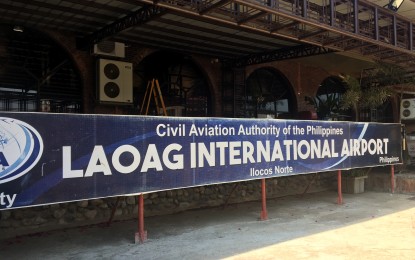 MANILA – Around eight airports nationwide will receive funding under the 2023 national budget to undergo rehabilitation and improvement, the Department of Budget and Management (DBM) said on Thursday.
In a statement, the DBM said the appropriation of funds was in line with the implementation of at least eight airport projects provided under the 2023 General Appropriations Act (GAA).
Tacloban City Airport would get the highest budget amounting to PHP1.42 billion for its modernization, the DBM said.
Following Tacloban Airport were Laoag International Airport and Antique Airport which would receive around PHP785 million and PHP500 million, respectively.
The government, the DBM said, would also earmark PHP200 million for New Zamboanga International Airport, PHP80 million for the Bukidnon Airport, PHP50 million for Vigan Airport, PHP43 million for the Ninoy Aquino International Airport and PHP15 million for M'lang Airport.
DBM Secretary Amenah Pangandaman said funding the projects for the construction and repairs of the eight airports in the country is part of the commitment of President Ferdinand R. Marcos Jr. to improve the country's mobility and connectivity.
"This budgetary allocation seeks to support the construction, rehabilitation, and improvement of the country's transportation infrastructure, particularly in the aviation sector. This is in line with the mandate of President Bongbong Marcos to put prime importance in enhancing our country's transportation system," Pangandaman said.
Pangandaman also ensured the government's continued thrust for infrastructure development to attain the government's goal of economic transformation.
"When we say transport infrastructure development, this does not only mean building or improving railways or road transport. It also means the improvement and rehabilitation of airports," she said.
"That is why, for 2023, we made sure that various airports in different regions across the country would be getting their needed funds, as their development will propel growth in different sectors, such as trade, employment, and tourism," Pangandaman added.
To help travel industry
Makati City Rep. Luis Campos Jr., House appropriations committee vice chairperson, said funding aviation projects is necessary not only to help the travel industry, but also to provide considerable direct and indirect gainful employment and economic opportunities to many Filipinos.
"We are all for increased government spending to develop aviation hubs. Being an archipelagic nation, highly efficient airports are essential for us to move people and goods faster," Campos said in a statement on Thursday.
He particularly highlighted the construction of the completely new Zamboanga International Airport this year, which will be built from the ground up on a 175-hectare site.
It will have a 3,440-meter runway to accommodate bigger aircraft, control tower, a passenger terminal, and six jet bridges.
The existing Zamboanga International Airport in Zamboanga City is being relocated 17 kilometers away due to land constraints.
Marcos earlier said he sees "better days ahead" in the country's public transportation system, as he vowed to sustain the implementation of big-ticket infrastructure projects.
He also stressed that having an "effective and efficient" transportation system will have multiplier effects on employment, the economy, and our society, bringing "comfort, convenience, and an easier life for all." (with reports from Filane Mikee Cervantes/PNA)