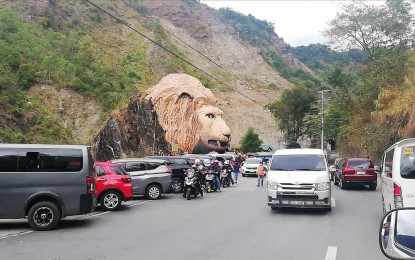 BAGUIO CITY – Filipino-Chinese traders on Thursday expressed optimism that the revival of tourism in the city – which will soon host its annual Panagbenga Festival – would trigger a domino effect of economic benefits for them and the city.
"So far, we are back to normal (that is why) we are all on the go again. Base sa mga kasama natin, yung tourism natin, marami ang umaakyat, lahat ng negosyo madamay (Based on reports we have been receiving, businesses will benefit from more tourists going up to Baguio)," hotelier Peter Ng, president of the Baguio-Benguet Chamber of Commerce and Industry and president of the Baguio Cantonese Association, said in an interview on Thursday.
"Maraming kakain sa restaurant, kaya ang mga restaurant bibili sila sa palengke, sa supermarket kaya lahat may benefit. Kaya you can see na ang mga businessmen ngayon mas confident na ngayon (More people will eat in restaurants and these restaurants will buy their supplies from the supermarkets. So everyone will benefit. Businessmen are now more confident)," Ng said.
Major hotels, restaurants, and other businesses in the city are owned and managed by Filipino-Chinese families who have been living in Baguio for decades.
Aloysius Mapalo, city tourism officer, told the Philippine News Agency (PNA) that tourist arrival data shows an average of 40,000 tourists every week, with most of them spending the weekends in the country's summer capital.
"That is now the trend. We see it further peaking with the Panagbenga upcoming, then followed by summer vacation, which is traditionally the crowd-drawing event," he said.
The number of tourists is expected to swell in the next few weeks as the Panagbenga or the Baguio Flower Festival formally starts on Feb. 1, followed by the summer vacation and Holy Week.
Mapalo said tourism in the city began to pick up in March 2022 after the city government lifted the entry protocols.
"In December, naramdaman naman natin ang mga turista. And while there were some who were not happy with the traffic, the business sector was glad there were visitors who are helping in the recovery process," he said. "That is revenge tourism. They missed Baguio, especially with the many new things, events, and places that can be visited in the city, which were prepared during the pandemic when there were no tourists."
Mapalo said the city's tourism sector is expected to recover in three years, shorter than the five years earlier projected by local officials.
Ng, meanwhile, said he is also expecting more good things to happen in the Year of the Rabbit.
"The Year of the Rabbit signals a good beginning because the pandemic has slowed down already. Although not 100 percent, it is still a good start. What's important is we remain confident and positive in the way we think," he said. (PNA)