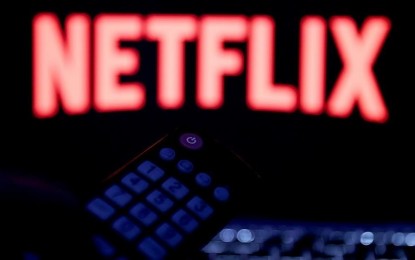 ISTANBUL – Netflix saw its revenue and membership increase in the fourth quarter of last year, according to financial figures released Thursday.
The online streaming platform saw its revenue rise to $7.85 billion in the October-December period, up 1.8% from $7.71 billion in the same period of 2021.
Net income, however, stood at $55 million -- down 91% from $607 million during that period.
The number of paid memberships increased by 8.91 million to reach 230.75 million in October-December last year, up 4% from the same period a year earlier, when they stood at 221.84 million.
The number of paid memberships also rose by 7.66 million, or 3.4%, from the preceding quarter, or July-September period, when they stood at 223.09 million.
The rise in paid memberships pushed Netflix's stock price up more than 6% to $335.09 per share on the Nasdaq in post-trading hours after it closed Thursday at $315.78 per share.
"2022 was a tough year, with a bumpy start but a brighter finish. We believe we have a clear path to reaccelerate our revenue growth: continuing to improve all aspects of Netflix, launching paid sharing and building our ads offering," the firm said in its financial results statement.
The company also said that Reed Hastings, who co-founded Netflix in 1997, will step down from his CEO position but will continue his role as executive chairman.
Chief Operating Officer Greg Peters will become co-CEO, joining Ted Sarandos, who has the same position, and he will join the firm's board.
Hastings said the recent years were "a baptism by fire, given Covid and recent challenges within our business" in a blog post and praised Sarandos and Peters.
"But they've both managed incredibly well...So the board and I believe it's the right time to complete my succession," he said.
Peters said in the statement that he feels "humbled and privileged" for his new role, adding he and Sarandos have worked together for many years, building trust and respect.
In addition, Bela Bajaria, formerly head of Global TV, has become chief content officer, while Scott Stuber has become chairman of Netflix Film. (Anadolu)