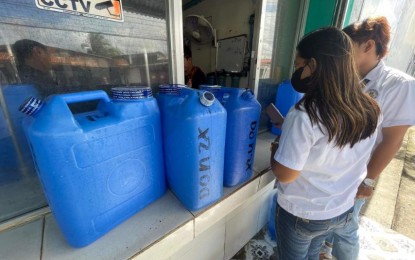 BACOLOD CITY – The city government here has been inspecting water-refilling stations without permits since last year and will soon enforce closures if they still fail to comply amid the continued cases of water-borne diseases in the city.
As of Friday, more than a hundred businesses selling drinking water had been issued final notices of violation and temporary closure in October 2022, based on the records of the City Legal Office (CLO).
"If they have no requirements, they will be closed down," Mayor Alfredo Abelardo Benitez said on Thursday.
City Legal Officer Romeo Carlos Ting Jr. said personnel have been assigned to check the compliance of these water-refilling stations in securing the mayor's permit.
"If they have not, we will enforce the closure. We will no longer issue notices of closure again since we already did that last year. It means they do not follow the compliance of requirements," he added.
On Wednesday, the CLO enforcement team visited water-refilling stations in Barangay Villamonte.
In October last year, about 122 water-refilling stations were closed for lack of permits, after an inspection conducted by the City Health Office (CHO).
The CHO's action came after the city started recording cases of cholera, an acute diarrheal infection caused by ingesting contaminated food or water.
In an advisory, it reminded residents to use safe, potable water for drinking and domestic use.
"Get water for drinking only from water refilling stations with updated bacteriological monitoring of their water and permits and ensure that water pipes or hose from PrimeWater has no holes or bandages as contamination may seep in," the CHO added. (PNA)