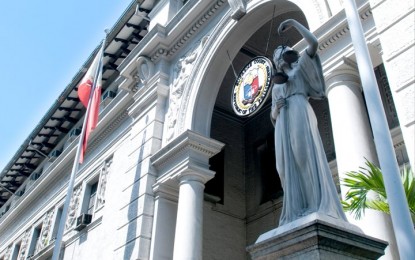 MANILA – State lawyers on Friday said they will be studying the implications of the Supreme Court (SC) resolution that issued a writ of interim habeas corpus which resulted in the "temporary liberty" of lawyer and plunder suspect Jessica Lucila "Gigi" Reyes.
Solicitor General Menardo Guevarra said they will carefully pore over the Jan. 17 SC ruling that released Reyes on Thursday from the Taguig City Jail, where she has been detained since 2014.
"I believe that the court's ruling in this case will have to be applied on a case-to-case basis, depending on the facts of each particular case, and not as a blanket precedent," Guevarra said in a text message.
"The Supreme Court has made it clear that its ruling on the petition for habeas corpus is not tantamount to an acquittal of the accused nor to a dismissal of any of her pending cases. It will only result in the temporary liberty of the accused, as if bail was granted without any amount fixed by the court. The OSG (Office of the Solicitor General) will carefully study the ramifications of the court's resolution," Guevarra added.
The SC First Division said Reyes' confinement violates her constitutional right to speedy trial and infringes on her right to liberty."
"Indeed, nine years is far too long of a detention pending the resolution of a criminal case. If petitioner were to wait for a final judgment before seeking effective relief, then it might be too late for her to genuinely enjoy her liberty. By then, justice delayed would truly be justice denied," the SC said.
Reyes was alleged to have received about PHP170 million in kickbacks from 2004 to 2010 through non-governmental organizations associated with businesswoman Janet Napoles, the alleged link of officials in the illegal release of their Priority Development Assistance Fund or pork barrel.
The 19-page SC resolution directs Reyes to personally attend the hearings of the criminal cases filed against her before the Sandiganbayan, submit a quarterly periodic report to the Clerk of Court of the graft court on her whereabouts, and to secure a travel authority from the Sandiganbayan in cases of foreign travel and physically present herself before the court and submit a report within five days from arrival.
The court said Reyes' release shall be without prejudice to her re-arrest and detention should she fail to comply with any of the conditions.
Reyes, former chief of staff of then senator Juan Ponce Enrile, asked to be released due to the alleged violation of her constitutional right to a speedy trial.
Senator Ramon Revilla Jr. was detained 1,643 days before acquittal while Senator Jinggoy Estrada was in jail for 1,188 days and released on bail, both for similar pork barrel-related charges.
Department of Justice Secretary Jesus Crispin Remulla said the SC ruling on Reyes may apply to another high-profile case, that of former senator Leila de Lima who has been detained since 2017 for illegal drug charges.
"(It's) possible. The same reasoning may apply on Sen. De Lima's case," Remulla said in another text message.
Former Supreme Court spokesperson and civil rights advocate Theodore Te shared Remulla's view.
"Leila De Lima should file a petition for HC (habeas corpus) as a test," Te said in a statement. "The (unforeseen?) consequence of this new interim writ is that all those similarly situated to the applicant under the guidelines will now file petitions with the SC. Hopefully, it will not become an opportunity to narrow the scope of the interim writ's application." (PNA)