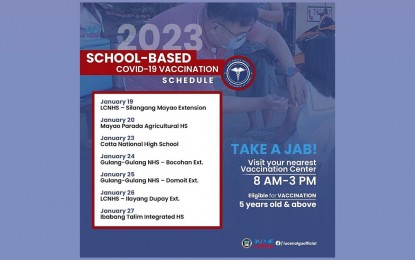 LUCENA CITY – The city government has tapped seven public schools as vaccination sites to encourage more students and residents nearby to get vaccinated against the coronavirus disease 2019 (Covid-19).
City Health Officer Dr. Jocelyn Chua said Friday they have intensified the vaccination drive when students began face-to-face classes.
Chua, however, noted that because of the low turnout, school administrators have urged her office to bring the vaccination drive to the schools.
Shierley Pedernal, Nurse II and Covid vaccine coordinator, said all vaccines (from the first to the second booster shots) shall be available at the schools and even non-Lucena residents could get a shot if they showed up.
Covid vaccines will also be administered to children five years old and older but minors must present a birth certificate and be accompanied by parents or guardians.
The first vaccination day in school was conducted at Lucena City National High School (LCNHS) - Silangang Mayao Extension on Jan. 19, and at the Mayao Parada Agricultural High School on Jan. 20.
The next vaccination day will be at the Cotta National High School on Jan. 23; Gulang-Gulang National High School - Bocohan Extension on Jan. 24; Gulang-Gulang National High School - Domoit Extension on
Jan. 25; LCNHS - Ilayang Dupay Extension on Jan. 26; and Ibabang Talim Integrated High School on Jan. 27.
The vaccination activity will be from 8 a.m. to 3 p.m.
Dr. Chua said vaccination is continuous at their office and vaccination certificates can be handed out to those who need it.
Lucena City has vaccinated 90 percent of its target number of 200,000 residents. (PNA)