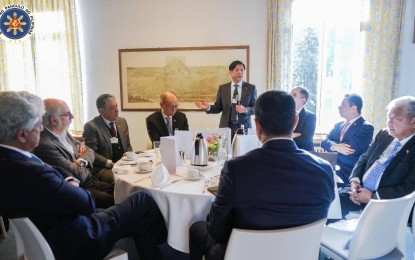 MANILA – The official members of the Philippine delegation for the 2023 World Economic Forum (WEF) in Davos, Switzerland had all played "vital roles" in promoting the Philippines, President Ferdinand R. Marcos Jr. said on Friday.
In an interview with Philippine media in Zurich, Switzerland before flying home, Marcos said the participation of the members of the delegation was needed to seal important deals and strengthen strategic investments and partnerships with key economic leaders, including the chief executive officers (CEOs) of Fortune 100 companies.
"When is the next chance we will get to speak to CEOs of top Fortune 100 companies in the period of two days? So, whoever we get to talk to, kailangan nandoon 'yung secretary na pwede niyang sagutin, pwede niyang kausapin (the concerned Cabinet secretary must be there to answer any questions or discuss issues)," the President said.
As for the inclusion of several lawmakers, among them House of Representatives Speaker Martin Romualdez and Senator Mark Villar, Marcos noted that legislation is "an important part of what we are doing."
"Let's say you talk to a potential investor, sasabihin niya 'yung batas ninyo hindi maganda, kami naiipit (who is not impressed with our law, we will be put in an awkward situation)," he explained.
"So, at least we have the legislators here who can say, 'Well, we can do something about it,' or 'No, that is important to us that we maintain it."
He said the delegation is even lucky "to have on board" former president and incumbent House Senior Deputy Speaker Gloria Macapagal-Arroyo.
Marcos made the remarks in response to a media query about criticisms that branded his trip to Switzerland as "lavish."
There was also a report that Marcos brought a whopping 70-man delegation to Switzerland, a claim that was already refuted by Malacañang.
The President, accompanied by the country's official delegation consisting of members of his Cabinet, lawmakers, business tycoons, and other government officials, attended WEF activities and held a series of meetings with business leaders on the sidelines of the international forum.
Trade Secretary Alfredo Pascual, who is also part of the delegation, said Marcos' participation in the WEF aroused investors' interest in several areas, among them digital economy, minerals processing, logistics and transport, as well as micro, small and medium enterprises (MSMEs) operations.
In a meeting with the Filipino community in Zurich, Switzerland, Marcos expressed satisfaction over the accomplishments of his official delegation during and on the sidelines of the WEF.
"We are satisfied that we were able to do most, if not all of the things that we wanted to do while we were here," he said. (PNA)