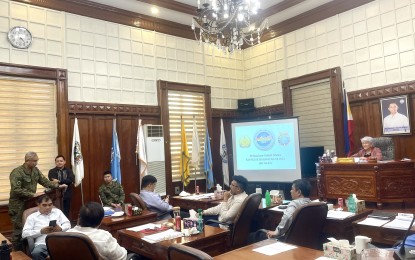 LAOAG CITY – The province of Ilocos Norte will host the Philippines-United States Balikatan exercise which is set on April 24-27, 2023.
After doing it in various parts of the country for the past 37 years, Col. Michael Logico, team leader of the 38th Balikatan Exercise and executive agent of the Armed Forces of the Philippines (AFP), said Monday the municipality of Burgos has been pre-identified as the "operational area" where they will set up firing points within the town's coastal air defense site including a live fire exercise to test the newly-acquired weapons system of the United States and the Philippines.
"This is an inter-agency collaboration where we will also test communications between our command post to the different units," Logico told members of the Sangguniang Panlalawigan of Ilocos Norte as his team and their US counterparts paid a courtesy visit at the session hall.
This year, around 16,000 forces of the AFP and U.S. military are teaming up for Balikatan 2023, one of the largest-ever iterations of the Philippine-led annual exercise taking place in Ilocos Norte as well as in the islands of Fuga, Calayan and Batanes where air mobile operations and logistics exercises will also be conducted.
To ensure the smooth flow of the exercise, Logico's team has set up a meeting with the Ilocos Norte police as well as the Philippine Marines based in the province on Tuesday, for proper coordination along with concerned local government units.
"What we are doing is a deterrence and not a provocation. The exercise is a means for us to integrate our capabilities not just for ourselves but also to enhance existing mutual security efforts," he said.
The AFP and U.S. military also plan to establish a health center in Barangay San Joaquin in Sarrat town, also in Ilocos Norte during the Balikatan.
"Balikatan" is a Tagalog term that means "shoulder-to-shoulder" or "sharing the load together," which characterizes the spirit of the exercise and represents the alliance between the Philippines and the United States. (PNA)