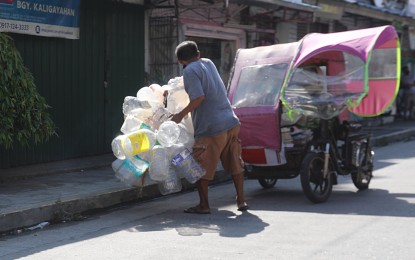 MANILA – As the country observes National Zero Waste Month and the 22nd anniversary of the Ecological Solid Waste Management (ESWM) Act this month, Senate President Pro Tempore Loren Legarda joined the Climate Change Commission (CCC) and environmental groups in lobbying for the urgent passage of a national regulation to ban single-use plastics.
Legarda filed a bill last year calling for the regulation and management of single-use plastics by providing penalties, levies and incentives for industries and consumers, according to a news release on Monday.
The measure states that for single-use plastics which cannot be avoided, business enterprises must ensure that these are recycled while each single-use plastic already manufactured and in circulation at the time must be charged PHP5, to be paid by the consumer.
The collected amount shall be reflected in the official receipt, with 20 percent going to the business enterprise to cover the cost and 80 percent to be remitted monthly, quarterly, or semi-annually to the Special Plastic Fund that will be created by the bill.
After a one-year period, businesses enterprises as well as the consumers' use of single-use plastics shall be prohibited.
"This measure will provide an ambitious yet comprehensive' approach to solving the problem of single-use plastics and supporting the development and use of more eco-friendly products and packaging. We will continue to lobby against single-use plastics and foster discussions on initiatives that advance real, demonstrable and lasting solutions to the plastic pollution crisis in the country," Legarda said during the ribbon-cutting ceremony of the #PlasticFreePilipinasSaSenate photo exhibit on Monday.
The National Solid Waste Management Commission bans "unnecessary" single-use plastics in national government agencies, local government units (LGUs) and all other government controlled-offices.
The CCC has also imposed a plastic ban in its office operations, with disposable plastics, such as straws, stirrers, utensils, food wrappers, grocery bags, instant food packaging, lids, drinking bottles and caps prohibited within office premises during official meetings, conferences and other activities.
The ESWM mandates LGUs to be primarily responsible for the segregation and collection of solid waste at the barangay (village) level, specifically for biodegradable, compostable and reusable wastes.
The collection of non-recyclable materials and special wastes shall be the responsibility of the municipality or city.
A report by the Organisation for Economic Co-operation and Development (OECD) last year said global plastics consumption will rise from 460 million tons (MT) in 2019 to 1,231 MT in 2060 in the absence of bold new policies.
"Growth will be fastest in developing and emerging countries in Africa and Asia, although OECD countries will still produce much more plastic waste per person (238 kilograms per year on average) in 2060 than non-OECD countries (77 kilograms)," the report said.
The Senate photo exhibit features a documentary screening of "The Story of Plastic" and "Ang Huling (The Last) Plastic" to spread awareness on the single-use plastics problem.
The photo exhibit and a Zero Waste Bazaar that will showcase viable alternatives to single-use plastics will run until Feb. 22 while the documentaries will be screened on Feb. 2 and 9. (PNA)