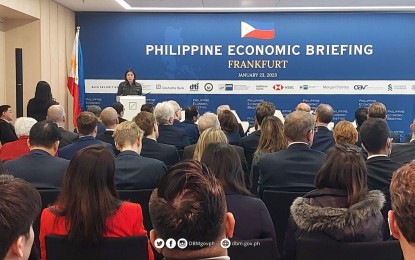 MANILA – Department of Budget and Management (DBM) Secretary Amenah Pangandaman presented the country's priority expenditures in support of the Philippine Development Plan (PDP) 2023 to 2028 at the first Philippine Economic Briefing (PEB) for 2023 in Frankfurt, Germany, providing European investors an overview of opportunities for partnership with the Philippine government.
Pangandaman discussed the modernization of agriculture and agri-business as part of the PDP's goal to transform production sectors.
With the agriculture budget increased by 40 percent compared to 2022, more farm-to-market roads, and latest agricultural machinery and facilities, will be provided by the state to help farmers improve their productivity and ensure food security in the country.
Pangandaman said the infrastructure sector -- particularly public, digital and social infrastructure -- would be upgraded to establish an enabling environment for growth.
The Department of Transportation was allotted PHP106.0 billion for its massive transport projects that will make mobility convenient and accessible for every Filipino.
For digital infrastructure, public investments are directed to create a technology-enabled workforce and improve governance.
To realize the PDP's objective to develop and protect the capabilities of individuals and families, Pangandaman assured that the 2023 national budget has sufficient funding for the social services sector which includes education with PHP896.08 billion -- still the no. 1 priority as mandated by the Constitution.
The Department of Health was allotted with PHP314.7 billion, while PHP199.5 billion was earmarked for the Department of Social Welfare and Development.
To ensure the longevity and continuity of all these programs, Pangandaman said legislative and budget reforms are set in place to safeguard the integrity of the budget process, foremost of which is the Progressive Budgeting for Better and Modernized Governance or the PBBM Governance Bill that will institutionalize key Public Financial Management reforms, such as the cash budgeting system.
Pangandaman was joined by Finance Secretary Benjamin Diokno, Socioeconomic Planning Secretary Arsenio Balisacan and Bangko Sentral Governor Felipe Medalla for the Europe leg of the PEB.
The Frankfurt engagement will be followed by another session with business leaders and investors in London, United Kingdom on Jan. 26 at 5 p.m. (Philippine time). (PNA)