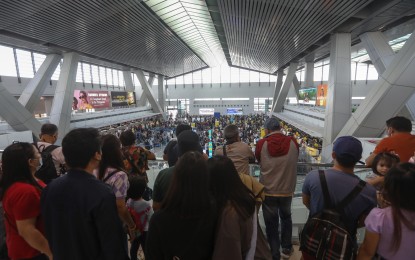 MANILA – The Philippine government has no plan of privatizing operations of the Ninoy Aquino International Airport (NAIA), President Ferdinand R. Marcos Jr. said on Monday.
Marcos made this clarification after Department of Transportation (DOTr) Secretary Jaime Bautista supposedly disclosed that the Marcos administration plans to privatize NAIA's operations.
"There's no plan to privatize anything. Rather, we do the opposite. No, when Secretary Jimmy Bautista was talking about that, I think he may have been – maybe he misspoke or he was misinterpreted," he told select reporters in an interview at Malacañan Palace.
"But you cannot privatize an airport, to begin with. They cannot own the airport. A private firm cannot own the airport," he added.
He, however, bared that his administration is looking to hire a private company to manage traffic and increase movement in the Philippines' busiest gateway.
Marcos did not disclose the name of the company but noted that he met with their officials during his trip to New York in September last year.
"…They run several big airports, that we are asking them what can they do, can they come in and help us so that we can increase the traffic through the Manila airport. And they said, they could. And so they are coming – they were here last week to look at the operations of the airport and especially since we had that problem on New Year's day and this recent outage with the [uninterruptible power supply]," he said.
"At most, we will have a management contract. Come in and manage the airport. And they say that they, without changing anything, without changing – without new equipment, without building a new runway can increase the traffic from what is presently, they refer to as 35 movements per hour to up to 45 movements per hour without changing anything. So we want that," he added.
On New Year's Day, NAIA encountered an air traffic management system glitch that led to numerous flight cancellations, affecting around 56,000 passengers.
The DOTr said the "incident that resulted in the loss of power in the system was due to a problem in the system's electrical network, with its uninterruptible power supply, which is to be used as backup power supply, also failing."
AFP appointments
Meanwhile, Marcos denied speculations that his wife, First Lady Liza Araneta-Marcos had anything to do with the appointment of Intelligence Service of the Armed Forces of the Philippines (ISAFP) officials.
Araneta-Marcos earlier released a video denying the allegation, saying she was "sick and tired" of people using her name to stir controversy.
"Zero. She really has no input on that. The First Lady helps me in terms of the organization because she is actually very, very good at that. Organizing which office, how the office – how the workflow goes, where the documents go through. But that's the extent of it. We don't talk policy together," he said.
He said he did consult her on making "difficult decisions," but only if they were legal and not political issues.
"Not political. Not political decisions. Legal. Oh yeah, legal I will ask her. Whenever there's a legal question, I'm not a lawyer so I need an expert opinion. She's right next to me most of the time so I could turn to her," he said.
Marcos said he was also lucky to have Chief Presidential Legal Counsel Juan Ponce Enrile as "the best legal representation of any president."
Next Marcos President?
Marcos also shot down rumors that his son, Senior Deputy Majority Leader and Ilocos Norte Rep. Ferdinand Alexander "Sandro" Marcos was being groomed as "the next Marcos president."
"We're not grooming him for anything. He is grooming himself. He has decided on this career in politics and he will handle it the way he does. There is not some long-range plan that one day Sandro is going to be president. Actually, he will laugh in your face if you tell him that," he said.
Marcos said talks about his son seeking the presidency were "premature" because he was busy dealing with affairs as congressman of Ilocos Norte.
"Everybody dreams to be at the number one position. But that doesn't mean that we're plotting – we have this long-range plan. Not at all. Not at all. He's too busy anyway. He has too much work anyway," he added.
Sandro accompanied his father on several foreign trips, including his recent trip to Davos, Switzerland to attend the 2023 World Economic Forum.
Marcos said he joined the trip as the author of a bill seeking to establish a sovereign wealth fund in the country to be called Maharlika Wealth Fund. (PNA)