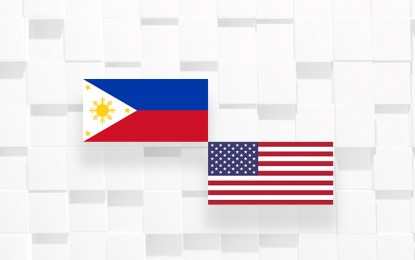 MANILA – United States Ambassador to the Philippines MaryKay Carlson said bilateral trade between the Philippines and the United States last year surpassed the USD33-billion level.
In a forum of the Makati Business Club (MBC) Tuesday, Carlson said 2022 was a banner year for the bilateral trade between the two countries.
She said a big chunk of the trade value last year was exports to the US at around USD21 billion, making the US the top destination for Philippine exports.
US Embassy data also showed that two-way trade between the Philippines and US in 2021 reached USD30.2 billion.
The Philippines is one of the 119 developing countries that are benefiting from the US Generalized System of Preferences (GSP).
In a report of the US Congressional Research Service last year, it said the Philippines is one of the top five beneficiary developing countries in terms of value of goods entering the US market in 2021 under the GSP along with Thailand, Indonesia, Brazil and Cambodia.
The trade preference program covers nearly half of tariff lines in the US.
Carlson is also optimistic about the trade ties between the two countries, with the Philippines joining the US-led Indo-Pacific Economic Partnership (IPEF).
The Biden administration aims to use IPEF to strengthen its engagement with Indo-Pacific countries such as the Philippines, Australia, Brunei, India, Indonesia, Japan, South Korea, Malaysia, New Zealand, Singapore, Thailand, Vietnam and Fiji.
Its four pillars include trade; supply chain; clean energy, decarbonization and infrastructure; and tax and anti-corruption.
"The way we look trade and investment now coming out of the pandemic is very different than the straight-up trade agreements that we used to have," Carlson said, adding that the IPEF addresses those non-tariff barriers and other trade issues apart from tariffs that would improve the flow of trade.
Trade missions
To further boost economic ties between the two countries, Carlson announced that the US government agreed to support multiple trade missions this year.
"These will bring US exporters involved in agriculture, energy, technology and other industries to the Philippines to explore business opportunities," she said.
The envoy also invited Philippine companies interested in investing in US to participate in the SelectUSA Summit in May. (PNA)