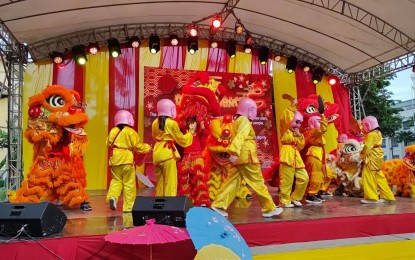 CEBU CITY – The Cebu City government will hold cultural festivals celebrated in different countries to boost tourism in line with the full reopening of the economy amid Covid-19, an official said on Wednesday.
Lawyer Jocelyn Pesquera, Cebu City Tourism Commission chief, said this year's planned initiatives target a wider international audience and would focus on festivals that are widely celebrated.
The commission, she said, has planned to replicate here the Hanukkah of the Jewish community in Israel and other parts of the world, the Diwali which is also known as the Festival of Lights in Indian culture and the one observed by Koreans.
Pesquera did not mention which festival in Korea the city would adopt but the country in the peninsular region in East Asia has some festivals they celebrate each year, like the Bonfire Festival, Wangin Festival, Chuseok-Harvest Moon Festival, the Busan One Asia Festival and several tribal feats.
She said the city has recently held Hanukkah in Plaza Independencia late last year.
It was just a small celebration, she said, adding that they are planning to make it bigger in December.
"We will have a bigger celebration together with the Jewish community," she said.
She cited the Red Lantern Festival which was successfully held on the eve of the Chinese New Year on Saturday (Jan. 21), saying the commission has decided to celebrate this in the city every year.
In summer, the commission would launch watersports tourism at the city's new business district at the South Road Properties (SRP). The event will include kayaking, canoeing and jet skiing.
"Hopefully, before the end of the year, we can already jumpstart scuba diving at the site one kilometer from ll Corso in SRP. We are setting up a wharf at Barangays Pasil and Suba which will become the jump-off point for scuba diving and island hopping," Pesquera said.
She said students from the Marine Biology Department of the Cebu Technical University reported to the Cebu City Council that "we have a rich marine biodiversity just one kilometer from Il Corso, which is good for scuba diving".
She said visitors who find Cebu's scuba diving hubs in Moalboal or Oslob in the south and the island town of Bantayan in the north can spend their time exploring the marine life off the coast of the city.
The commission, Pesquera said, will work with the marine biologists in crafting campaign strategies to document the marine biodiversity area here as well as in disseminating multimedia materials to promote these water-related activities for the visitors. (PNA)