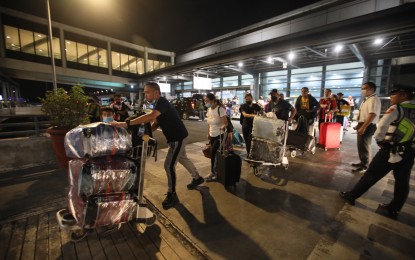 MANILA – The Department of Migrant Workers (DMW) has lifted the country's deployment ban of overseas migrant workers on India and the processing of both new hires and rehires may proceed.
Based on the Advisory No. 2 series of 2023 dated Jan. 19 signed by Undersecretary Bernard Olalia, the DMW sought the advice of the Department of Foreign Affairs (DFA) based on the numerous requests for consideration from concerned workers.
The advisory said based on the DMW's request, the DFA provided the following as bases to consider the appeals.
First, India has passed labor and social laws protecting workers' rights that include migrants.
Second is that India is a party to core labor conventions; and the third consideration states that "although there is no bilateral labor agreement between the Philippines and India, there is already an ongoing negotiation on providing Filipino migrant workers social security coverage."
The DMW said in lifting the deployment ban, processing of employment contracts may proceed provided that these are duly authenticated by the Philippine Embassy in New Delhi, India.
However, the advisory clarifies that the lifting of the deployment ban does not include household service workers until India is fully certified as a compliant country under Republic Act 8402 or the Migrant Workers and Overseas Filipinos Act of 1995, as amended by Republic Act 10022.
"May kulang (Something is missing), there are sets of requirements and there are one or two ingredients missing to the link and so the deployment of the household workers to the said country is still on hold," DMW Communications Director Toby Nebrida said.
On Dec. 5, 2022, the DMW, through the Philippine Overseas Employment Administration Advisory No. 77, Series of 2022, began the suspension of deployment of workers to India, saying it is a non-compliant destination country for overseas Filipino workers, according to the information given to them by the Philippine Embassy in New Delhi.
Based on available data, there are around 2,000 Filipinos currently staying and working in India, mostly professional and skilled workers. (PNA)