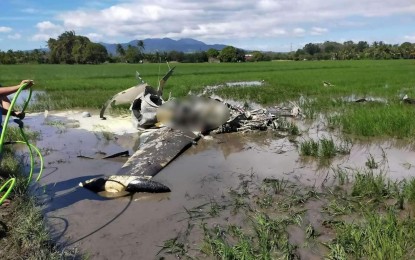 MANILA – The Philippine Air Force (PAF) on Wednesday confirmed that one of its SIAI-Marchetti SF-260TP trainer/light attack turboprop aircraft went down in Bataan as its two pilots were conducting "recurrency training."
In a message to reporters, PAF spokesperson Col. Ma. Consuelo Castillo said the plane crashed in Barangay Del Rosario in Pilar town at about 10:34 a.m.
"We confirm that it is one of our Air Force aircraft, the SF-260TP aircraft (was) from Sangley (Cavite), it was on a 'recurrency training' and that there were two pilots involved. Unfortunately, we cannot give details more than that, the investigation is ongoing," she said in a message to reporters.
"Recurrency training" refers to the training given to aircrew members or pilots to be proficient in a particular aircraft.
Castillo said the ill-fated aircraft was assigned to the 15th Strike Wing, which is based at the Major Danilo Atienza Air Base in Sangley Point, Cavite.
All SF-260TP aircraft in PAF service are grounded while the investigation into the crash is ongoing.
"Per our SOP (standard operating procedure), we ground the fleet," she said.
In a later statement, the PAF said the ill-fated SF-260TP aircraft has a tail number 701 and took off from Major Danilo Atienza Air Base in Sangley Point, Cavite City to perform recurrency/training flight around 10 a.m.
"At around 10:40 a.m. the aircraft was reportedly seen to be descending to a field in Sitio Tabon, Barangay Del Rosario, Pilar, Bataan where it eventually crashed. Two PAF pilots perished in the mishap while no civilian casualties were reported. Our aircraft accident investigation team are already at the site for a thorough investigation, while our SF-260TP fleet has been grounded," it added.
The SF260TP is a highly maneuverable and fully aerobatic basic trainer aircraft of the PAF that serves as a light attack combat aircraft.
It was used during the Marawi siege and various combat missions of the PAF.
It is capable of performing close air support, battlefield air interdiction, aerial reconnaissance, persuasion flight, armed escort, maritime patrol, air cover, flare drop, forward air controller, and aerial demonstration.
"The PAF enjoins the public to join us in condoling with the bereaved families as we further request to refrain from spreading unconfirmed/ unofficial news and pictures about the incident. The PAF assures that all necessary aid, assistance, and support will be provided to them," it added.
"Further, inspite of this mishap, the Command assures that we will continue to perform our usual mandate to provide air support for focused military operations and disaster response," the PAF added. (PNA)