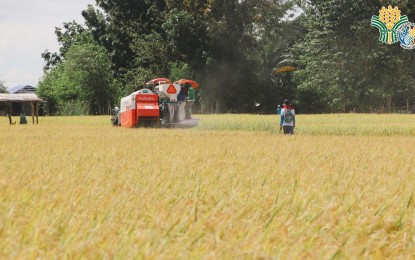 MANILA – A total of 1,839 agrarian reform beneficiaries (ARBs) in Eastern Visayas region will receive their own individual electronic titles (e-titles) from the Department of Agrarian Reform (DAR).
In a press release on Wednesday, DAR said that 2,591 electronic titles (e-titles) comprising 3,922 hectares of agricultural land under the Support to Parcelization of Lands for Individual Titling (SPLIT Project) will be distributed on Jan. 26.
The distribution of the first batch of individual titles generated under the SPLIT Project will be held at the Visayas State University-Tolosa Campus auditorium.
DAR Secretary Conrado Estrella III said this is line with the directive of President Ferdinand R. Marcos Jr. to expedite the distribution of land titles to ARBs this year and provide support services to help them improve their living conditions.
"The SPLIT project intends to fast-track the subdivision of collective certificates of land ownership award (CCLOAs) of about 1.3 million hectares of land nationwide," Estrella said.
"The SPLIT project was funded by the World Bank so that CCLOAs could be parceled and issue individual titles to the ARBs. We will release individual e-titles to protect and affirm the property rights of our ARBs," he added.
DAR Eastern Visayas Regional Director Robert Anthony Yu, for his part, said that included in the SPLIT project is around 17,496 CCLOAs covering a total of 220,473 hectares of agricultural lands that are situated in different parts of the region.
Of the number, Yu said about 67,601 hectares have been validated by the region, while 3,922 hectares have been issued with e-titles.
The SPLIT project pursues the full implementation of the Comprehensive Agrarian Reform Program by enabling farmer-beneficiaries to have a clear and defined ownership of the parcels of land they are tilling; encouraging farmers to increase their production and make long-term improvements of their land; stabilizing the ownership, tenureship and control of the lands awarded to ARBs; and generate short-term income opportunities for the project workers who will be hired in the implementation of the project.
Estrella said in an earlier interview that farmers could not effectively utilize the land to earn income because they do not know the specific metes and bounds of the land given to each of them.
With farmers getting their individual titles, Estrella believes that more ARBs would be encouraged to improve their landholdings toward increased farm productivity and household incomes. (PNA)