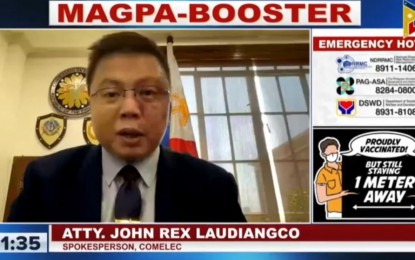 MANILA – The Commission on Elections (Comelec) on Wednesday said it is expected to complete all preparations for this year's Barangay and Sangguniang Kabataan Elections (BSKE) in May.
Comelec spokesperson John Rex Laudiangco said the preparations for the upcoming polls started last year since the original schedule of the election was in December but was moved to 2023.
"We hope that before May, the Comelec will be ready. Even though the election is still on October 30, earlier than May, the Comelec is 100 percent ready to conduct the election," he said at the Laging Handa briefing.
He said the printing of the ballots has resumed since it started in 2022.
"Other election materials, thumbprint markers, ballpens, folders, schools are being prepared," he said.
Laudiangco said they may ask for an additional PHP3 billion budget.
"Since registration has opened again, we were given an additional PHP2.5 billion. Because we reset the polls later, new preparations are needed. In the event that there are too many new registrants, we may ask for additional funding," he said.
He said this is to maintain the 400 voters to one precinct ratio.
"These are manual elections. Each candidate will be written one by one and counted one by one. If we make that 600, we'll be a little slower and take longer. If we maintain 400 voters per precinct, we need a new precinct, more teachers, more supplies. We are looking at this in case we need to ask for funds according to Republic Act (RA) No. 11935," Laudiangco added.
President Ferdinand R. Marcos Jr. signed on Oct. 10, 2022 the law moving the December 2022 BSKE to Oct. 30, 2023. (PNA)